July 18, 2013 - 9:56am
Indictment contains 64 charges against former village justice and his daughter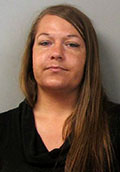 Brandi Watts
Of 61 criminal counts lodged against Brandi Watts, the former court clerk in the Village of Corfu, 53 of them deal with allegedly filing false time cards exaggerating the number of hours she worked.
Watts and her father, Robert Alexander, former justice in the village and a current justice in the Town of Pembroke, were arraigned on criminal charges yesterday following an 18-month State Police investigation into alleged missing funds from the court.
A state comptroller's audit and uncovered the potential of as much as $10,000 being diverted from the court treasury.
The Batavian obtained a copy of the 42-page indictment this morning from Donald O'Geen, district attorney in Wyoming County, who is acting as a special prosecutor on this case.
Watts is also charged with two counts of grand larcen,y 3rd, and one count of grand larceny, 4th.
In the indictment, she is accused of stealing $8,819 between 2009 and 2011, and of stealing another $3,770 in that same time period. She is also accused of stealing $1,308 on June 7, 2011.
She is also accused of altering the files of six traffic citations, leading to six counts of tampering with public records in the first degree.
Alexander was also arraigned on two counts of coercion. The indictment contains no details on the specific acts that led to the charge, but accuses Alexander of using the power of his office as justice to induce fear to cause a person or persons to do something they might not otherwise do.
He's also charged with official misconduct, which accuses him of performing acts as a justice that he was not authorized to perform.
UPDATE: We've learned that the charges against Alexander stem from a harassment compliant lodged by current court clerk Pamela Yasses. At an Oct. 8 meeting of the trustees, Yasses said Alexander threatened her job and tried to intimidate her after she completed a financial audit of the court -- at his request -- that she said reached a conclusion similar to the comptroller's audit.
Yesterday's story: Former Village of Corfu court clerk charged with grand larceny
July 18, 2013 - 6:56pm
#1
YouTube Video: Judged Man (Complete video)
Staring Robert Alexander as the Judge Man.
http://www.youtube.com/watch?v=PvuQkVcQXHY
In the title description, be sure to click on "Show More" for a complete description & listing of cast & actors.
July 19, 2013 - 7:27am
#2