February 13, 2014 - 10:33am
Knights give Cal-Mum a fright but let game slip away in closing seconds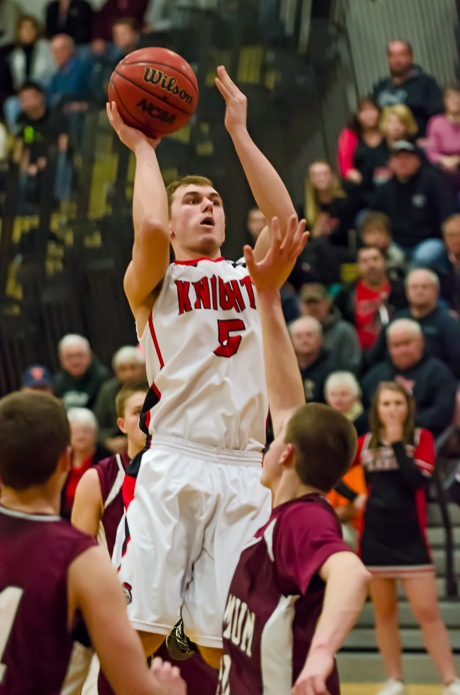 Le Roy almost pulled off an upset against archrival Cal-Mum on Wednesday night.
But there's no almost in basketball. And there are no moral victories.
"They played good," said Rick Rapone, Le Roy's first-year head coach. "But you've got to play 32 minutes. You can't play 31 minutes and 50 seconds. You've got to play it the whole way out."
With the score knotted at 57, the Red Raiders took possession of the ball with less than 20 seconds left on the game clock.
It only took a couple of passes to get the ball to a wide open Chris Wilson just beyond the arch. His three-point swoosh gave Cal-Mum the lead with only 4.8 seconds left.
Three points is a big deficit to erase with only a few ticks to go and the Oatkan Knights were forced to settle -- no matter how well the game was played for 31 minutes and 50 seconds -- with a 60-57 loss.
"I told the kids I'll feel good when we finish one of these games off," Rapone said. "We've got to play 32 minutes."
Le Roy finishes the regular season with a 7-11 record and will open sectional play Feb. 18 against Bath-Haverling (8-10).
An upset over the 17-1 Red Raiders would have given Rapone's program a nice boost, but he still feels good about his team heading into the championship rounds.
The Oatkan Knights under Rapone play a fast-paced offense and pressure defense that should give a lot of teams fits.
"You really don't want to play us," Rapone said.
"Our program is going in the right direction," Rapone said. "We have gotten better every single week since I started and we're hoping now this catapults us into the tournament."
The Knights certainly had Cal-Mum's Dan Dickens pulling at his collar in the second quarter and the Raider's fans on the visitors' side of the bleachers grumbling, "we're better than this."
With the Raiders down by a dozen points in the second period, Dickens called a time out, sat his starters down and gave them a good tongue lashing.
A Raider's fan told another, "they deserve it."
But it's hard to stop a hot hand and Knights certainly had that going for them in the first half, dropping six three-point shots (compared to none in the second half).
As the second quarter wound down, Cal-Mum cut Le Roy's lead to two points and the second half would be a battle with neither team gaining a clear advantage until those fateful closing seconds.
"We held them to 60 points," Rapone said. "I don't think they've been held to 60 points very many times this season."
Zack Moore led the Knights with 20 points, including two threes, and going four of six from the foul line. Nick Egling had 10 points, including a pair of threes in the first quarter. Mike McCullen was four of five from the foul line and finished with six points. Ethan Witkowski and Kody Lamkin had seven points each.
Kurtis Haut and Will Van Auken had 18 points each for Cal-Mum and Chris Wilson scored 13.
For Le Roy, Lamkin had eight rebounds and Moore had seven. Steve Cappotelli and Moore each had three assists.
For Cal-Mum, Van Auken was a monster on the boards with 13 rebounds. He also blocked four shots.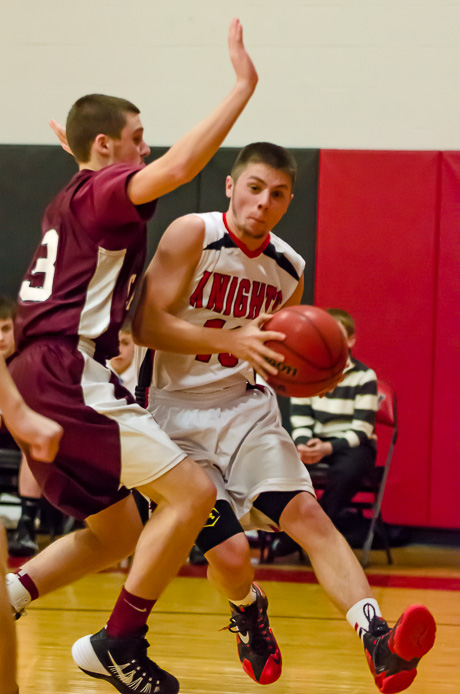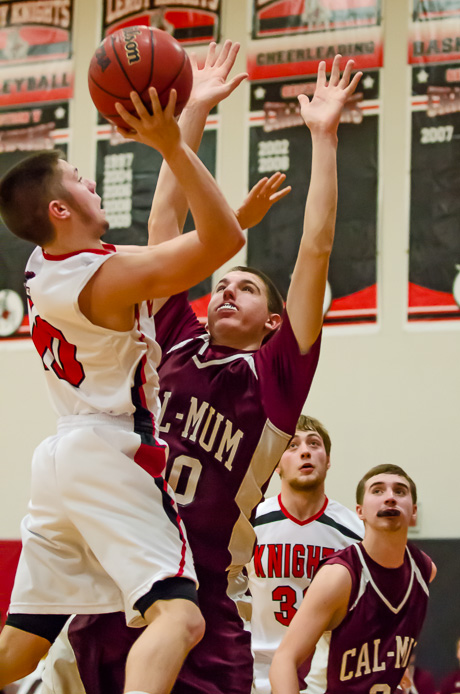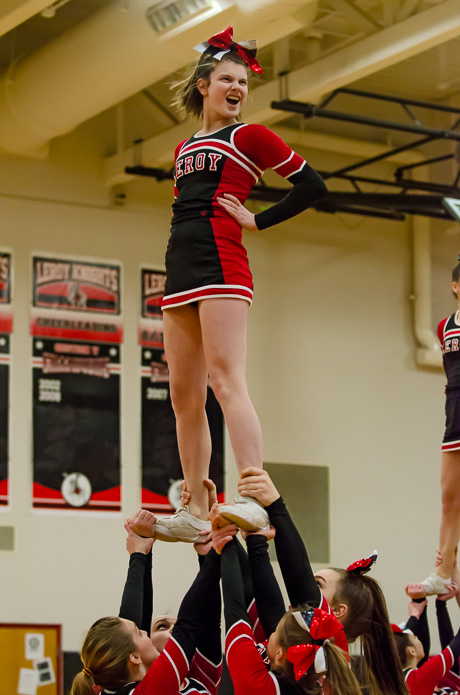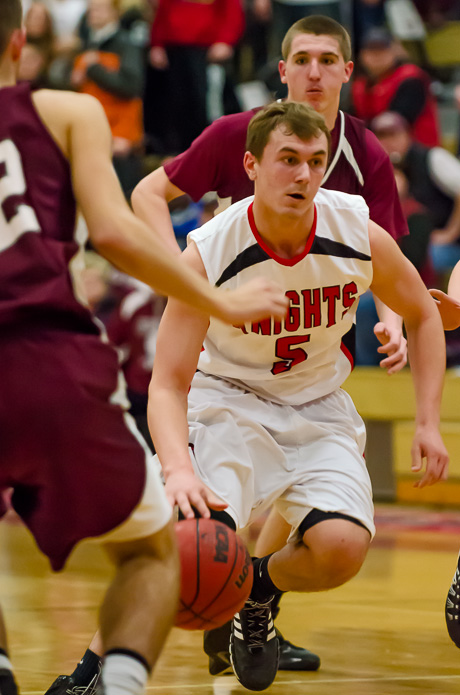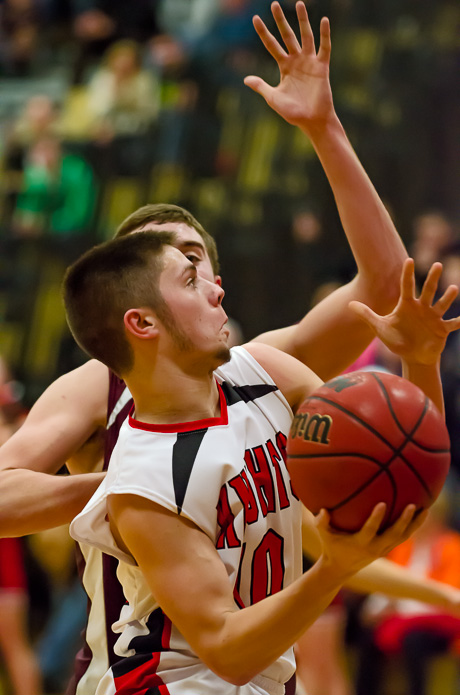 To purchase prints, click here.
February 13, 2014 - 5:28pm
#1
Howard may I just say that your Sports Photo's are nothing but assume !!
ESPN The Magazine has nothing on You, Kudos to you and the Batavian!!
February 13, 2014 - 5:48pm
#2
Thanks ... maybe someday I'll be good enough and they'll even be Sports Illustrated comparable :)