July 10, 2013 - 5:59pm
'A Knight's Journey' will tell the tale of Le Roy football through the stories of those who played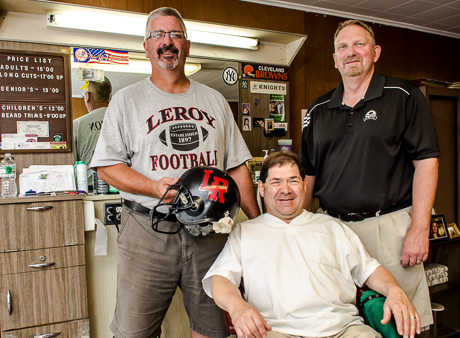 There is a toughness, according to Jim Bonacquisti, that defines what it means to be an Oatkan Knight.
The stories of those tough kids, the ones who were heroes and the ones who always put in a good effort, are what Bonacquisti and research partner John Mangefrida want to capture for a book they're writing on the history of Le Roy football.
"When I talk to the old timers, the word tough keeps coming up," Bonacquisti said. "There's something about this community that the kids are just tough. When I ask people, why is that, they talk about the Irish, the Italians, the blacks, just something about the makeup of the community. Just tough, tough kids and it's still that way."
In an effort to leave no stone unturned, Bonacquisti and Mangefrida will be at the Oatka Festival this weekend in their own booth looking to talk with former players about their time in red and black.
Bonacquisti figures he already has five hours of interviews taped and has written five chapters of "A Knight's Journey," but he wants to get as many stories as he can about the people and events that shaped more than a century of football in Le Roy.
"We don't want to leave something out," he said. "There's going to be somebody who gets left out somehow, but that's why I think it's important (to hear from people)."
It's not unusual for storied high school programs to be the subject of a local history book, but Bonacquisti wants to get beyond the usual dry fare of those books -- stats, won-loss records and game recaps. "A Knight's Journey" will be about the boys who played the game and the community that they helped define -- and which helped define them.
"It's all about the kid," Bonacquisti said. "It's all about that kid when he's this tall and his dad brings him to a football game and he's thinking, 'I want to do this. I want to be a part of this.' I don't know if every community has that."
Bonacquisti said he was that kid once, and so was his dad. It's been that way for many families for many generations in Le Roy.
To pick up the game program Mangefrida puts together every year and flip through the names of players who have worn red and black through the decades, it's like a who's who of Le Roy's prominent and not so prominent familes. Antinore, Bower, Condidorio, Crocker, Lapp, Lathan, Loftus, Longhany, O'Geen, Paladino, Panepento, Pangrazio, Rider, Scott and Whiting.
On the field, the names that stand out, Bonacquisti said are Shaughnessy, Miller and Scott.
While the Shaughnessy and Millers have produced generation after generation of top Section V players, the Scott name is the only one that is draped across the balcony of a professional football stadium.
That would be the name Boomer Scott, who was a varsity fullback and defensive lineman for the Red and Black (before they were the Oatkan Knights) in 1940, '41 and '42. He was recruited by Notre Dame at a time when there were maybe seven top football programs in the nation and Notre Dame was one of them.
After college, Scott had a Canadian Football Hall of Fame career from 1949 to 1960 in Hamilton, Ontario.
It's the story of guys like Scott that the young players need to learn about, Bonacquisti said. Here was a guy right from Le Roy who not only had a great football career, but made a difference in his adopted community of Hamilton (after he retired, Scott became a successful businessman in Hamilton and eventually served one term on the city council).
The kids need to learn about Ed Walsh, too, he said.
Walsh coached in Le Roy in 1946 and 1947, with a record of 5-2 his second year.
The next year, Walsh was head coach in Manhasset on Long Island when he spotted a freshman in the hallway one day and asked him if he ever played football. The shy boy who had just moved to Manhasset from Georgia said he never had.
Walsh became that boy's mentor and the father figure he never had, and that youngster, Jim Brown, would not only go on to lead Manhasset to a 20-1 record over four seasons, averaging more than 12 yards per carry, he would become a standout athlete in lacrosse, basketball and baseball before becoming one of the all-time great running backs in nine seasons with the Cleveland Browns.
No story of Le Roy's coaches would be complete, though, without including at least the names Ray Jamalkowski and Brian Moran.
Jamalkowski ended six straight seasons of futility in what had otherwise always been a proud program and in just one season -- when the Knights went 6-1 in 1965 -- turn the program around and started a streak of winning seasons that would to go until 1979 (the year, coincidentally, when Bonacquisti was captain).
"He came from Batavia," Bonacquisti said, "and he saw in these kids that toughness and he brought it out of them."
Moran's 177-58-2 record over 23 seasons makes him somewhat of a living legend in the annals of Le Roy football, and he's not done yet. With the kids coming up through the program, Bonacquisti said Moran should be able to notch quite a few more victories in the coming years.
Then there are people associated with Le Roy football who are best remembered not for their exploits on the gridiron, but what they did away from the field.
Today, outstanding Le Roy students receive awards named after John Armino and Gary Scott.
In 1960, Armino sacrificed his life by lying down on top of another boy on the track tracks near Buttermilk Falls to protect him from an oncoming train.
The second student to ever receive the John Armino award was Gary Scott, who was killed in action in Vietnam in 1968 while saving the lives of fellow soldiers.
When Bonacquisti posted about Scott on a Facebook group he set up for the book, a former student who once won the Gary Scott Award said the post prompted him to find out more about Scott.
"He sent back a reply to me about how humbled he was," Bonacquisti said. "He felt kind of bad because he didn't really look into who Gary Scott was and then he said when he saw how significant the award was and how he felt to think that his teachers thought that much of him to give him that award."
In telling these tales, Bonacquisti believes he can help preserve the tradition of what it means to be a Knight -- that toughness, but also the humility, the honor, the desire to prove oneself and showing mercy to a conquered enemy.
That tradition is one of the things that helps bind Le Roy and define Le Roy, Bonacquisti said.  There may be things that have at times pushed the community apart, but on Friday nights, football always brings them together.
"When we get those 30 kids out there, we don't care where you live," Bonacquisti said. "You could live on Mill Street or you could live on East Main Street. The best players and the toughest kids are going to play.  
"That really helps kids," he added. "Maybe they don't come from the greatest background or families, but they know they're going to get a fair shot to be part of something pretty significant if they put the work in."
Over and over, during our talk at Ron Rossi's barbershop, Bonacquisti said he only knows Le Roy football and that's the story he wants to tell.
"Are we different from any other community? I don't know," he said. "I can only judge by what we have here."
Photo: Bonacquisti, Rossi and Mangefrida.
July 10, 2013 - 8:02pm
#1
July 11, 2013 - 11:48am
#2
Nothing like a Friday night at Hartwood Park, go Knights