November 10, 2012 - 10:30am
Kreative Design takes a step up with new location on East Main Road, Batavia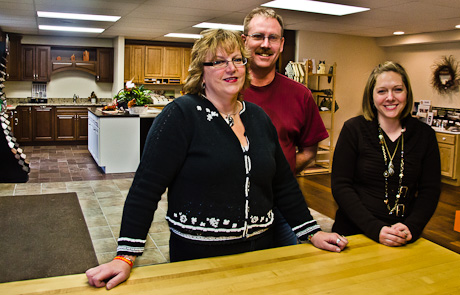 So far, according to Mike Adams, everything about moving Kreative Design Kitchen and Bath to a new location at 5582 E. Main Road, Batavia, has been a success.
Mike and Debbie Adams founded their business in 1993. A big reason for the move was so they could enjoy the financial benefits own owning their own building. In doing so, they also expanded their showroom space by 800 square feet. The expansion has allowed them to expand their business to include more flooring and closet systems.
In the kitchen and bathroom departments they still offer Omega and Diamond cabinets.
With more than 100 people showing up for the grand opening weekend last Saturday and Sunday, Adams said he's pleased the new location is attracting some attention.
Photo, Debbie and Mike Adams, left, and designer Aubrey Kingston.
November 10, 2012 - 12:14pm
#1
When we re-did our kitchen a few years ago, we went to Kreative Design. We were very pleased with the end result.
They will work with you and you can do as much or as little as you wish. Mike and Debbie were a pleasure to work with.
When i re-did my bathroom, I purchased the cabinets there. Again...a very good experience.
Congrats Mike and Debbie on your move and our wishes for continued success.
November 12, 2012 - 12:31pm
#2
We also chose Kreative Design for our kitchen remodel 2 years ago. We have no regrets. We were pleased with every aspect of the project - from the service to the cost and especially to the attention to detail. There was no hype, no upselling. Just an accomplished effort to please the customer. Congratulations, Mike and Debbie!!