March 20, 2014 - 11:01am
Law and Order: Batavia man accused of fighting with police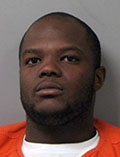 Tyquawn D. Bethel
Tyquawn D. Bethel, 23, of East Main Street, Batavia, is charged with obstructing governmental administration, 2nd, resisting arrest, endangering the welfare of a child, criminal trespass, 2nd, and petit larceny. Officers were dispatched to an address on Prune Street for a report of an argument at 10:06 p.m. Tuesday. Bethal allegedly entered the residence uninvited and refused to leave. Bethal allegedly argued with a person at the residence. He allegedly grabbed money from the purse of the resident and then attempted to leave with the money. When patrols arrived, Bethal was allegedly combative with officers and refused to comply with verbal commands. Bethal allegedly initiated a fight with the officers. Children were allegedly present during the scuffle. He was subdued and taken into custody. Bethal was jailed on $2,500 bail. The investigation was handled by Officer Kevin DeFelice and Sgt. Dan Coffey.
Robert L. Peachey Jr., 30, of Gibson Street, Oakfield, is charged with petit larceny. Peachey is accused of stealing a bottle of Jack Daniel's Honey from YNGodess on Feb. 28. (Previously)
Shaumyk Antonio Santiago, 21, of St. Paul Street, Rochester, is charged with burglary. Santiago is accused of forcing entry into a residence on Tinkham Drive, Darien, on or about Dec. 27, and stealing handguns, cash, jewelry and other property. Santiago was arraigned, released on his own recognizance and turned over to another police agency on unrelated criminal charges. A second arrest in the case is pending. The investigation was conducted by Investigator William Ferrando and Sgt. Ron Meides.
Christopher M. Colantonio, 34, of East Main Street, Batavia, is charged with failure to appear. Colantonio was arrested on a bench warrant. He was jailed on $1,000 bail.
Elizabeth A. Denise, 33, of Hutchins Street, Batavia, was arrested on a bench warrant. Denise turned herself in. She was released on $100 bail.
Kevin R. Baumgarte, 39, of Birchwood, Batavia, is charged with DWI, driving with a BAC of .08 or greater, passing a red light, leaving scene of a property damage accident and failure to keep right. Baumgarte was allegedly involved in a hit-and-run accident on South Main Street at 4:30 p.m. Sunday. Batavia patrols subsequently located Baumgarte. The accident was investigated by Officer Eric Foels.
Micahel Samuel Yamonaco, 41, of Trumbull Street, Mount Morris, Kathleen Melissa Pritchard, 35, of Spartan Drive, Farmington, Aaron Michael Higgins, 34, of Genesee Street, Piffard, and Miranda Ariene Ralston, 27, of Genesee Street, Piffard, are all charged with grand larceny, 4th. The four suspects are accused of stealing a TV from the Batavia Walmart. They were arrested by the Monroe County Sheriff's Office and found with the allegedly stolen TV. 
March 20, 2014 - 5:36pm
#1
Howard, and updates from local law enforcement on the St. Patrick's Day road blocks? wondering how many motorists were stopped and how many were arrested.
March 20, 2014 - 10:00pm
#2
Nothing's been released and I haven't asked.