September 4, 2012 - 12:05pm
Law and Order: Buffalo man accused of passing fake 50s and trying to eat the evidence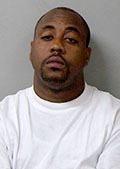 Larry J. Jones, 35, of Hamlin Street, Buffalo, is charged with criminal possession of a forged instrument, 1st, a Class C felony, and tampering with physical evidence, a Class E felony. Jones allegedly tried to buy French fries at Darien Lake Amusement Park using a fake $50 bill. An employee suspected the bill of being counterfeit and notified security. Jones allegedly produced a large number of $50 bills also believed to be counterfeit. While being transported to the security trailer, Jones allegedly tried stuffing additional fake $50 bills he possessed in his mouth and eating them. Security officers were able to prevent consumption of the bills and, though damaged, they were also determined to be allegedly counterfeit. Jones was jailed without bail. The case was investigated by Deputy Patrick Reeves and Investigator Kris Kautz.
Shawn Anthony Suarez, 23, of Bernhardt Drive, Snyder, is charged with unlawful possession of marijuana. Suarez is accused of possessing marijuana at a concert at Darien Lake on Aug. 29. Also charged was Samantha Lee Jindra, 18, of Westminster Road, West Seneca.
Antonio Velazquez-Hernandez, 25, of Oak Orchard Road, Albion, is charged with DWI, driving with a BAC of .08 or greater, reckless driving, driving left of pavement markings, failure to keep right, no signal, unlicensed operator. Velazquez-Hernandez was stopped at 2:50 a.m., Sunday, on Route 98 in Batavia by Deputy Howard Carlson. Velazquez-Hernandez was also allegedly in the United States illegally and was turned over to the U.S. Border Patrol.
September 4, 2012 - 4:25pm
#1
The good news is the counterfeit bills were printed on lettuce. Mr. Jones got a good meal before his 3 hots and a cot.