August 28, 2014 - 9:14am
Law and Order: Young man accused of punching older family member, leading to felony charge
Forrest Ansel III, 24, of East Main Street, Batavia, is charged with assault, 2nd. Ansel is accused of punching a relative several times, causing physical injury. The alleged victim is over 65 and more than 10 years older than Ansel. Ansel was arraigned and released under supervision of Genesee Justice.
Paul C. Ferraro, 19, of South Pearl Street, Oakfield, is charged with grand larceny, 3rd. Ferraro is accused of stealing more than $3,000 over a two-month period while employed at Save-A-Lot. Ferraro was jailed without bail.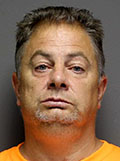 Thomas Webb
Thomas A. Webb, 54, of Syracuse, is charged with criminal possession of a forged instrument, 2nd. Webb was arrested after a bank employee called about two people in the bank trying to cash forged checks. Webb was apprehended at the scene, but the other person fled before police arrived. Police recovered the checks and the IDs of both suspects. The investigation indicates at least one other person may be involved. That person appears to have supplied the forged checks to the suspects and similar checks that were cashed at another bank branch in the City of Batavia. Le Roy PD and Batavia PD are working together in an ongoing investigation.
Timothy J. Lewis, 20, of Ellicott Street Road, Pavilion, is charged with harassment, 2nd. Lewis is accused of hitting a family member and a friend while in the parking lot of Oliver's Candies at 3:30 a.m., Wednesday.
Katherine S. Thomas, 41, of Ross Street, Batavia, is charged with disorderly conduct. Thomas is accused of intentionally breaking a glass mug on the sidewalk in front of her residence, causing a physically offensive and hazardous condition.
August 31, 2014 - 1:54pm
#3
HONESTLY ---DO NOT BELIEVE EVERYTHING U READ-ESP ON THE INTERNET OR POLICE BLOTTER-THIS IS A ACCUSATION-A CHARGE- HE IS INNOCENT-I KNOW AND EVEN IN A COURT OF LAW -TILL PROVEN GUILTY-though i have no faith in the justice system n with good cause-and u don't n won't know what i am speaking about here either-oops i guess in the net world of loser geeks it is not polite to use caps-get real-not everything is a lil funny jest for ninnys to make silly jokes and laff about-go volunteer somewhere or do something better with ur time-commenting n put downs on everything constantly -when u know nothing about the issue-or most of what you comment on---jus saying-and i do use the funny sayings i heard too-but only to make things be true n real and help people out - not just to see n hear my own bs-and get a minutes worth of attention-so say what you will n vote on it-social network -bs-haters n losers abound n talking -to get attention-as i said -ya'll get a life-i am living mine-with GOD and goodness n will no longer reply to any more nasty put downs n false info-stories-comments- so now that i am gone have at it-show the world how cool u are-like anyone cares-lmao !
this reply began politely to #3 comment but #ed -is the one that it is directed to now-have a good day