November 4, 2012 - 9:40pm
Le Roy can't stop Hornell's march toward a Section V record, come up short in championship game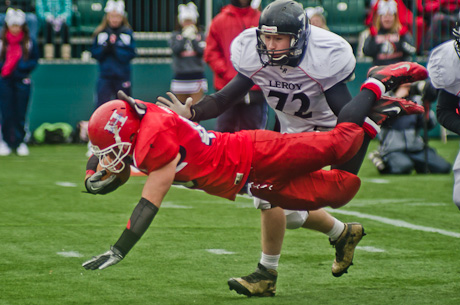 The last time the Hornell Red Raiders lost a football game, George W. Bush was still president.
Le Roy's Oatkan Knights did their best to bring the streak to an end, but came up short in a 21-7 loss in Rochester.
With 49 straight wins, Hornell ties a Section V record (the state record of 55 wins has stood since 1955).
For Le Roy, the Knights missed out on a chance at its 15th Section V title.
"If we make one catch here or there, who knows," said Head Coach Brian Moran. "We just didn't make the plays today. Sometimes that happens. I thought (Hornell) played extremely well. There's a reason they're 49-0. I thought we played as well as we could."
The Knight's took a 7-0 lead early in the first quarter on a Tom Kelso dive into the end zone and held the advantage into halftime.
In the 3rd quarter, the wheels came off.
The Knights, so stout through the first half, let the Red Raiders march the ball down the field and score on a 15-yard run by game MVP Zack Bacon.
On the first play of the next possession, a pitch from QB Mike McMullen to Kelso hit the turf and Hornell recovered the ball on about the 20-yard line. A few plays later on the shortened field, Luke Morgan's two-yard run put Hornell up 12-7.
"The things that usually cost you football games in games like this are penalties and turnovers," Moran said. "Obviously today, we did have a couple of those and it did cost us."
Le Roy continued to fight the tough fight, stopping one drive 10-yards short of the end zone.
There was still hope when a questionable chop-block penalty pushed Le Roy back, followed by a turnover that appeared to be a muffed foward pass ruled as a fumble.
Stuck on their end of the field, Le Roy couldn't advance the ball and on a 4th down play, McMullen was sacked in the end zone for a safety, making it 14-7.
With a little more than two minutes left in the game, Moran's squad tried an on-side kick on the post-safety free kick. The ball traveled a mere eight yards and Hornell recovered.
That put Bacon within striking distance for a 14-yard run make it 21-7.
"He's good," Moran said of Bacon. "I'd run him, too. He kind of wears you down. He's a very physical young man. I give credit to him. I'm sure he spends a lot of time getting ready physically and mentally to play."
The 2012 season was a good run for Le Roy, which is well stocked with young players. Moran said his boys came to Sahlen's Stadium ready to play.
"I thought our guys played as as hard as they could," Moran said. "I was proud of them. That's all you can ask. In high school sports, if the kids come out and give you everything they've got, at the end of the day, you've got to be proud of them."
Besides Bacon's MVP trophy, awards for Le Roy included Archie Cappotelli for offensive lineman, Tom Kelso for most valuable offensive back and Chris DeFelice for the sportsmanship award.
At halftime, Elba Byron-Bergen's Andy Underhill was named Class C defensive player of the year (photo in slide show).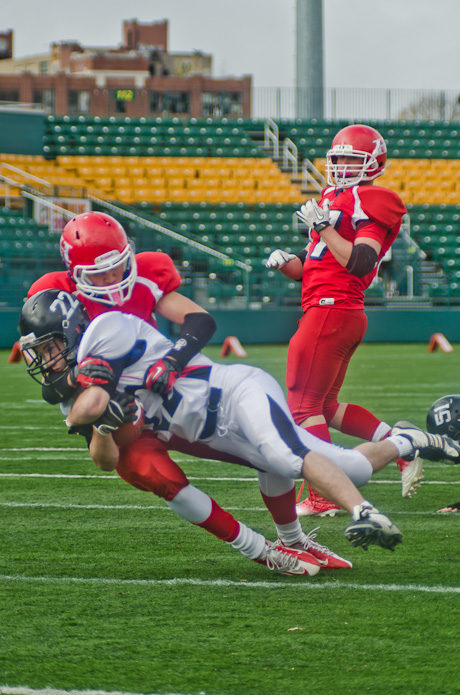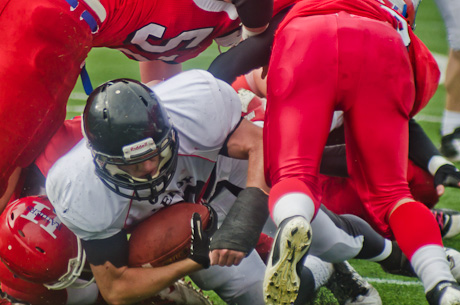 To purchase prints from this game, click here. If you're unable to view the slide show below, click here.