January 23, 2013 - 4:15pm
Le Roy man involved in theft of $51,000 from Pavilion home sentenced to prison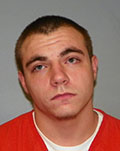 One of the four men arrested together in connection with a pair of burglaries over the summer in Pavilion appeared in Genesee County Court today and received the stiffest sentence of all.
John H. O'Shea, 20, of Wolcott Street, Le Roy, was given consecutive 3 1/2 to 7 year prison terms. He must also pay his part of more than $53,000 in restitution to his victims.
On Nov. 28, O'Shea plead guilty to burglary, 3rd, and grand larceny, 4th.
He had been charged with two counts of burglary, 2nd, and grand larceny, 4th, in connection with the May 21 Pavilion robbery. He had also been charged with burglary and grand larceny for a break-in in Le Roy.
O'Shea was first arrested in July and faced a charge for falsely reporting an incident for reporting a burglary in which he said jewelry and marijuana were stolen.
His Nov. 28th plea satisfied all pending charges.
The Pavilion homeowners spoke in court today about how the nighttime robbery devastated them.
O'Shea and partners Dylan J. Hawkins, 20, of Morrow Road, Pavilion, and Anthony J. Gonzales, 20, of Myrtle Street, Le Roy, reportedly got away with more than $51,000 in cash and more than $21,000 in securities.
"This crime greatly altered our financial future," one of the victims from Pavilion told Judge Robert C. Noonan. "We would like Mr. O'Shea to know that it took a lot of hard work by my husband over many, many years to earn that money and save that money. Why did Mr. O'Shea think he could just come in and take it?"
The victim pleaded with O'Shea to reveal where the money is hidden.
While O'Shea has reportedly admitted to spending $6,000 of the money on cocaine; he doesn't know what happened to the rest, according to his attorney, Thomas Burns.
Hawkins and Gonzales have both pled guilty to attempted burglary. Hawkins was sentenced to five years in prison and three years probation. Gonzales received six months in jail and five years probation.
Joshua M. Bratcher, 22, of Lake Street, Le Roy, who was initially charged with burglary, 2nd, and grand larceny, 4th, for his part in a May 18 break-in of the Pavilion residence, entered a guilty plea in Pavilion Town Court to petit larceny. He has not yet been sentenced.
Assistant District Attorney Kevin Finnell argued for the maximum sentence under the plea deal. He said O'Shea received a substantial break in getting his plea reduced from a violent felony -- second-degree burglary -- to a nonviolent third-degree burglary.
O'Shea has a prior violent felony conviction in South Carolina for robbery with a deadly weapon.
"I don't know that I've ever seen in a PSI (pre-sentence report by the Probation Department) before what I saw in this PSI," Finnell said. "It says, quite correctly, I think, that he is a menace to society."
Noonan told O'Shea that he has a criminal record that shows he's a violent felon and while he got a break with the plea bargain, Noonan intended to put him away for as long as possible.
Noting that if his victims had awakened in the middle of the night during his Pavilion robbery, the scene could have turned violent, if not deadly (there were guns in the house), and that was a very scary situation for the victims, Noonan said he was just glad the victims didn't wake up.
"I'm going to make sure nobody sees you in their house in the middle of the night for a good long time," Noonan said.
January 23, 2013 - 5:42pm
#1
victims will never see a dime of restitution..i wanted to say..too bad victim didn't wake and shoot those scumbags to death.but i won't as i am sure it was somebody else's fault they were out stealing, plus the expense to the victim defending himself in the courts.