January 23, 2014 - 9:59pm
Le Roy rapist allegedly tried to get somebody to hurt corrections officer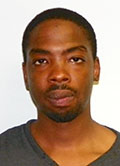 Charles Johnson
A convicted rapist slated to spend 18 years in prison has been charged with a new crime: criminal solicitation, 4th.
Charles Daniel Johnson Jr., 29, allegedly tried to convince another person to harm a Genesee County Jail corrections officer.
Sgt. Greg Walker said not a lot of information about the case is available  tonight. 
He said Johnson apparently made no offer of money or other compensation to the person he contacted, but he did try to get another person to hurt a corrections officer.
It's not known at this time how serious of an injury Johnson allegedly wanted to inflict on this officer or why the officer was targeted.
The corrections officer allegedly targeted has not been publicly identified.
Judge Robert C. Noonan sent Johnson to prison for 18 years Jan. 17 for the home-invasion rape of a woman in Le Roy.
Johnson has been incarcerated at the county jail pending the NYS Department of Corrections accepting him into the DOCS system.
January 23, 2014 - 11:17pm
#1
Junior is nothing more than a rapist and a base poltroon cell gangster.
January 24, 2014 - 1:36pm
#2
this guy is allegedly trying to hurt the only people he has to keep him safe. it would be so ironic if mr. Johnson found himself in a dire situation with another inmate and the guard thought that a coffee break was more important... karma maybe?
January 24, 2014 - 2:52pm
#3
They should of taken him out and shot him in his head. Rapists always committ crimes after they are released..and they still get less time than anyother viloent crime eveb drug dealers get more time.