June 13, 2014 - 12:01am
Le Roy residents debate town board over Frost Ridge lawsuit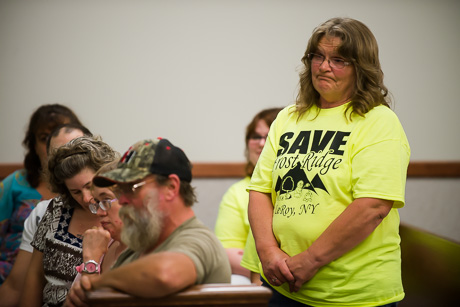 The Town of Le Roy Board had no choice but to pursue a lawsuit against one of its own local businesses, attorney Reid Whiting said Thursday night during a discussion with town residents of the Frost Ridge legal proceedings.
About 25 Frost Ridge supporters turned out to the board meeting and spoke up during a conversation that lasted at least 90 minutes.
There were no speakers supporting the board's lawsuit.
Frost Ridge is being sued by both the town and two neighboring residents over its very existence as a campground and its ability to hold outdoor music concerts.
The neighbors, David and Marny Cleere and Scott and Betsy Collins, have been pushing the town to enforce its zoning ordinance in regards to Frost Ridge, Whiting said. The two couples made it clear, Whiting said, the town would be sued if it failed to enforce its ordinances.
Such a failure, Whiting said, would embolden others to violate the zoning code and give the town little recourse for enforcement.
"If we ignored the violations, we would be found in dereliction of our duty and we would not be able to defend ourselves in other matters," Whiting said.
Later in the meeting, he said, "We did not act lightly. We did not act recklessly. We did not act without thought. We have a statutory duty to enforce the laws of Le Roy. If we do not, we are at risk. If we're at risk, you're all at risk."
The town board decided to sue Frost Ridge rather than defend its own Zoning Board of Appeals, which determined in 1978 and again 2013 that Frost Ridge was an existing, nonconforming use and permissible under the town's law.
Supervisor Steve Barbeau (second photo) said the ZBA overstepped its authority by making those determinations.
"The issue of whether something is grandfathered in or not grandfathered in is not their decision," Barbeau said. "If in the 1960s a record of music was played over the PA system so now that translates into Molly Hatchett coming in for a concert, if you believe that's the case, that's not something within the purview of the ZBA to rule on."
Both Whiting and Barbeau made the point that the town board was not criticizing the ZBA or arguing with the ZBA. The town did not sue the ZBA. Cleere/Collins sued the ZBA.
Whiting leaned heavily in more than one statement that the town's position obviously had merit because Judge Robert C. Noonan issued a temporary injunction against amplified music and alcohol sales at Frost Ridge.
"Judge Noonan takes precedent over anything the town board does," Whiting said.
When Eilleen Sherman Dries (top photo) said a code enforcement officer, who trained the town's current officer, told her Frost Ridge was a pre-existing nonconforming use, Whiting snapped, "The only thing that matters is what Noonan says."
At the hearing prior to Noonan's ruling, the ZBA was not represented. Whiting told Noonan during the hearing that the ZBA had been served notice that it was a defendant in the Cleere/Collins suit but chose not to be represented. That turned out not to be an accurate statement. Chairwoman Debbie Jackett has since said the board stands behind its determination that Frost Ridge is not violating existing town code.
The ZBA will be represented by its own attorney, paid for by the town, at further court proceedings.
Late in the meeting, Whiting said the town is just a secondary player in the legal proceedings, even though Noonan denied the Cleere/Collins side its own request for an injunction, granting just the town's request for an injunction.
If the other sides in the case were able to come to an agreement, Whiting said, he would not interfere with the agreement, but bring it back to the town board for consideration.
Coming to an agreement was the major request of just about every resident who spoke during the meeting.
"This is revenue we had and now it's going to Caledonia instead of Genesee County," said Lucie Ann Griffis (Disclosure, Griffis is a part-time sales rep for The Batavian). "This is revenue that not only the town needs, but the whole area needs. It's a shame the town board couldn't jump aboard on this and instead of saying what we can't do, saying what we can do.
"It's a shame what's being said about use, about the town not being friendly to business. I'm a lifer here. This is a travesty that we're losing this revenue based on the complaints of just a couple of people."
Carl (who refused to provide his last name) also complained about lost business.
"The town board should be out trying to promote the town and promote business and not take away a business because of some violation of code, because one or two complaints, and shut something down," Carl said. "The board should try and do some something to help them."
A couple sitting behind Carl said they were from Rochester and camp regularly at Frost Ridge, and have camped there since before the current ownership. They both said Le Roy has started to gain a bad reputation in Rochester because of situations like this.
Jennifer Keys also spoke in favor of finding some compromise that could save Frost Ridge.
"We cannot deny that Frost Ridge is a great source of revenue for our community," Keys said. "I would like to see it worked out so that the revenue stays here rather than going to Caledonia or Batavia."
Barbeau said the town has already tried to reach a compromise with Frost Ridge owners Greg and David Luetticke-Archbell, but at the 11th hour, the owners hired an attorney who withdrew their application for a special use permit for the campground.
"Once they conformed to that, then they could seek out a variance for concerts," Barbeau said. "There was no guarantee at all. It would have gone through the ZBA, then the planning board and then a public hearing and then the town board."
Keys responded, "I don't want to speak for the owners, but since they're not here, it's my understanding that county planning told them you can't do that, that their application (for a special use permit) wasn't valid because they didn't need it. They felt threatened and things blew up and here we are now. I would still hope something could be worked out."
Greg and David are out of town and not available for clarification, but The Batavian has previously spoke to sources who said Greg and David were advised by their attorney at the time that the special use permit was a trap. The issuance of a permit would negate prior rulings by the ZBA and end concerts at the Ridge.
Barbeau said he did try to find a compromise for Frost Ridge last summer and that he convinced Cleere/Collins to hold off on a suit during the 2013 concert season because shutting things down with contracts signed and deposits paid would have been economically devastating for Greg and David.
"I do bristle and I will continue to bristle when people say we didn't try as a town board to do anything to work things out," Barbeau said.
Barbeau said if Frost Ridge had continued with its application, he was confident it would have been approved by the board unanimously and then he was going to propose a town-wide zoning change that would have permitted concerts on any property three times a year -- Memorial Day, the Oatka Festival and July 4.
Frost Ridge hosts concerts at least nine times a year.
"They were gambling (when they withdrew their application) and they gambled wrong," Whiting said.
A man named Steve (who also refused to give his last name), made one last plea for resolution favorable to the town near the end of the discussion.
"This is a no-win situation," Steve said. "If you win the lawsuit, you lose all that revenue from all those people who come to Frost Ridge. "If you lose the lawsuit, you're going to owe the campground all that money, all the while costing me and the other residents a lot of money. You need to get in a room with everybody and work it out."
One audience member kept asking how the supporters could go about getting an item on the agenda at a future board meeting about the board reconsidering its position, and the answer was, there's a public comments section on every agenda.
"I want to know when we can ask you to represent the majority of the people in Le Roy instead of just two people," she said.
June 13, 2014 - 9:01am
#3
I was there (perhaps you were too, Brett?) and the quotes are accurate, though I don't think the tone really captures the tension in the room. This was a very contentious meeting and I don't feel that when reading this. I daresay it was the most contentious meeting I've been too and I went through the pool (added in edit), Robbins Nest and Wiss issues. At the end when given an opportunity to summarize and wrap up one Councilman chose to say that he hoped people understand the issue now and that he won't see us every two weeks to rehash the issue (rewritten in edit). Contentious meeting....