May 15, 2014 - 4:13pm
Up to life in prison for man convicted of sexually abusing 10-year-old
Via WBTA: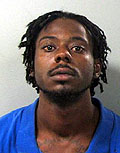 An Orleans County man is sentenced to 15-years-to-life behind bars for sexually abusing a 10-year-old girl in Batavia.
Terrel Goodson, 25, was convicted at jury trial in Genesee County Court in April of Criminal Sexual Act and Sex Abuse. The second charge carries a seven-year sentence to run concurrently.
Goodson was arrested in Albion in October. He was convicted after two days of testimony.
If Goodson is released, he will be on post-release supervision for 15 years.
Doug, I agree with you! I consider myself a Christian and it pisses me off when people make stupid comments like "God will get him". I do however hope Bubba gets his ass!