September 17, 2012 - 2:44pm
Lone student on school bus hit by truck on Route 5 not seriously injured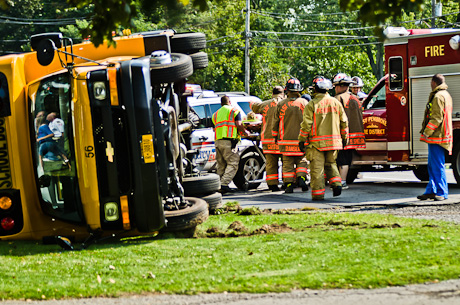 It was an accident that emergency responders acknowledge could have been much worse.
The initial call at 12:13 p.m. was for a semi-truck hitting a school bus and pushing it over on its side on Route 5 near Wortendyke Road.
Four ambulances were dispatched, Mercy Flight was put on standby and East Pembroke Chief Don Newton requested mutual aid from Batavia, Alexander, Darien and Oakfield.
"We didn't know if the school bus was full of children or not so a lot of ambulances were dispatched as a safeguard," said Sheriff Gary Maha. "You can always turn them back."
As it turns out, most of the responding units were put back in service.
There was only one pre-K child on the bus and he did not appeared to be injured. As required by code, he was taken to UMMC for evaluation.
Both drivers were evaluated at the scene and no injuries were reported.
The Pembroke Central School District bus was eastbound on Route 5 and was stopping to make a left-hand turn into a driveway to pick up another student when it was rear-ended by the tractor-trailer.
The bus skidded forward in a semicircle and landed on its side in the front yard of a residence on the north side of Main Street Road.
The driver and child were able to walk out the rear emergency exit.
"It could have been a lot worse," Newton said. "Thankfully, there was only one child on the bus and the driver was uninjured and the child is being taken to UMMC for evaluation, but it doesn't look like anything too serious at this time."
Maha said it was too early in the investigation to determine if the truck driver -- whose name has not yet been released -- was distracted prior to the accident.
The driver, Maha said, claims the bus driver had not activated its bus stop lights; the bus driver, Maha said, told investigators he had activated the lights.
Children on school buses are not required to wear safety belts and the child on this bus was not belted, Maha said.
The trucking company involved has requested the trucker's load be released, but state authorities have requested the trailer be impounded until Wednesday pending further investigation.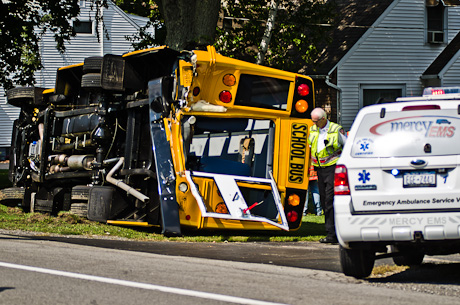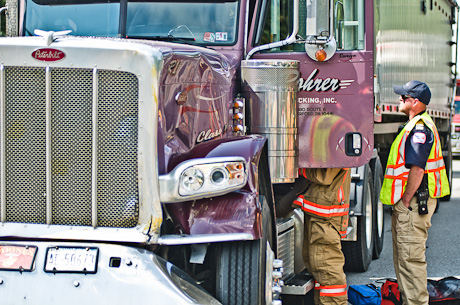 September 17, 2012 - 10:02pm
#1
What the public may not be aware of is how dangerous a stretch of highway this is. This is the second accident in front of my house since Friday. Speed and volume of traffic are two big factors. This is a residential area with many children, however, the posted speed is 55 miles per hour. That said, most traffic is going 60-70 miles per hour. The area neighbors have sent letters and petitions to the NYS Department of Transportion who refuses to acknowledge that there are any problems. Just exiting out driveways each day is a challenge. They refused to install "blind driveway" signs. After traffic was released post clean up I counted 19 big rigs in a row going past our houses. Thruway tolls have diverted truck traffic to Route 5 causing increased traffic and road damage. Next step is to contact our State representatives as we have gotten nowhere with either the Town of Batavia or NYS. Slow down in our area.. it may be your children or loved ones at stake.