June 11, 2013 - 11:22am
Man accused of rape appears in County Court, ordered held without bail, argues with judge about attorney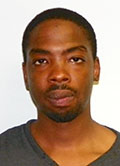 Charles D. Johnson, appearing before Judge Robert C. Noonan for the first time on charges that could land him in prison for life, became argumentative near the end of his arraignment over the issue of who should represent him.
"I don't want this man as my lawyer," said Johnson, moments after entering a not guilty plea to an eight-count indictment that includes charges of predatory sexual assault, a Class A-II felony, rape in the first degree, criminal sexual act in the first degree and sexual abuse in the first degree.
Johnson, whose aunt and other family members were in the courtroom, said his family is hiring an attorney for him.
Today, he was represented by Public Defender Gary Horton.
Noonan tried to explain to Johnson that until the point that a private attorney is hired, he has assigned counsel for his own protection and that Horton is his attorney for now.
The 29-year-old Johnson repeatedly interrupted Noonan. "Don't I have a right to say who my attorney is?" Johnson said. "I did not request him," he said. "I want a different attorney." "Can't my family have 30 or 45 days to hire an attorney?"
Finally, Johnson asked to represent himself until his family hires an attorney.
Noonan told him the case was over for the day and if his family hasn't hired an attorney by the time of his next scheduled court appearance -- Aug. 13 -- he can address the attorney issue then.
Johnson is accused of breaking into the apartment of a woman May 9 and using a knife to threaten her while sexually assaulting her.
Following his arraignment in Town of Le Roy Court, Johnson was ordered held without bail. Today, Horton argued that some bail -- perhaps high bail -- should be set for Johnson.
Horton found fault with the bail evaluation, saying he should have scored higher because he lives with his aunt and because he's been on public assistance for a number of years. He also said his client denies daily use of marijuana.
"He denies any chronic drug use," Horton said.
Assistant District Attorney Kevin Finnell said no bail was preferable, but if Noonan set bail, it should be at least $100,000 cash.
"The bail evaluation is scored negative eight points and that's appropriate," Finnell said. "It was properly prepared and verified. I would submit that Mr. Johnson isn't entitled to any more points than given in the evaluation, and even if he were, the crimes charged in this indictment are very serious and present a grave risk of flight."
Noonan said that since Johnson faces a possible life prison term he should be held without bail until trial.
As soon as Noonan said that, Johnson started arguing about his attorney.
June 11, 2013 - 12:35pm
#1
C'mon, Judge! Let this guy act as his own attorney. I'm pretty sure we've all heard what most attorneys say about acting as your own lawyer.
As for bail, they might want to be careful. There are probably, within a 50-mile radius of Genesee County, at least 100,000 people on public assistance, who would be willing to each send in $1 (of taxpayers money), to help this guy.
"...he's been on public assistance for a number of years. He also said his client denies daily use of marijuana." Heck, he might even get Jesse J or Sharpton to kick in a few $$.
NO BAIL!!
Who has the crystal ball that could show what might happen if this guy is out?
Besides that, he's already got Judge Noonan. Need I say anymore on THAT part of it?