May 15, 2014 - 4:07pm
Man accused of sex crimes in the city agrees to DNA testing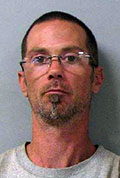 Jon Magliocco
A 36-year-old Rochester resident awaiting a possible trial on multiple third-degree rape charges has agreed, seven months after his arrest, to submit to DNA testing and a search of his mobile phone.
Jon Thomas Magliocco was arrested in October and is being held on $50,000 bail.
He appeared in County Court on Wednesday for his plea-cut-off date (the date Judge Robert C. Noonan sets for defendants to either go to trial or accept whatever plea offer is on the table.).  
His case was continued until a court appearance May 27 after Jerry Ader, public defender's office, informed Noonan that his client would submit to DNA testing and a search of his phone.
"We would ask for an extension to see what the results of those examinations would be," Ader said.
Friedman said wasn't sure how long it would take to get back test results for DNA, but would know better in two weeks.
Magliocco was indicted near the end of October on eight counts of rape, 3rd, a Class E felony, and nine counts of criminal sexual act, 3rd, a Class E felony.
He is accused of being older than 21 years old and engaging is sexual intercourse or oral sexual contact with a person less than 17 years old.
All but one occasion is alleged to have occurred in a house in the City of Batavia and the other incident was allegedly sexual intercourse in a tent in the Town of Batavia.