November 9, 2012 - 4:34pm
Man arrested at College Village accused of bribery, wanted in Virginia and Poughkeepsie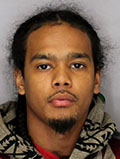 A Brooklyn man is facing a rare bribery charge in Genesee County, but that's not nearly the end of his legal troubles.
He's also wanted in Poughkeepsie and Virginia.
Christian J. Nykian, 20, was in custody and identified as a man wanted on a warrant out of Henrico County, Virginia, when he allegedly told State Troopers, "Yo, I will give you all my money in my pocket to make this go away."
In his pocket, according to Investigator Andre Dunlap, was $198.28.
Troopers Jenny Bryman and Steve Brady initially made contact wth Nykian at College Village on Wednesday after responding to a trespassing complaint.
Four subjects were found in a dorm room who allegedly did not have permission to be there.
When questioned, Nykian said his given name was Christian, according to Dunlap. When a records check turned up a warrant in Virginia, he said his real name was Johnny.
The troopers took him back to the State Police Barracks on West Saile Drive and a fingerprint scan positively identified him as Christian J. Nykian, Dunlap said.
That's when Nykian allegedly offered the troopers his $198.28 to "make this go away."
Locally, Nykian is facing a Class D felony for the alleged bribery of a public official as well as false personation and obstruction of governmental administration, 2nd.
In Virginia, Nykian is wanted for felony false pretense and false utterance.
Poughkeepsie PD authorities are also seeking Nykian on charges of grand larceny, 3rd, and possession of a forged instrument, 2nd.
Dunlap said both jurisdictions have said they will seek extradition of Nykian. He will likely face the New York charges before being sent to Virginia.
Nykian is being held in the Genesee County Jail without bail.
November 11, 2012 - 8:00am
#1
That doesn't sound like bribery..that sounds like a person in deep regret making a wish omg....really?
November 11, 2012 - 11:25am
#2
It is absolutely bribery by the law's definition, albeit not a very sophisticated effort -- allegedly.