November 19, 2012 - 9:37pm
Man with prior arrests, already serving time, accused of selling drugs to undercover agents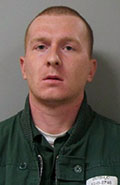 A 26-year-old Batavia man with prior arrests and already serving time in state prison was arraigned today on a sealed grand jury indictment charging him with drug dealing.
Cody Alan Bush Jr., formerly of 7614 Oak Orchard Road, Batavia, is accused of selling quantities of hydrocodone, oxycodone and suboxone to an agent of the Local Drug Enforcement Task Force.
A press release from the Sheriff's Office doesn't state the time period in which Bush allegedly made the sale to an undercover agent.
Bush is charged with criminal sale of a controlled substance, 3rd, and criminal sale of a controlled substance, 4th.
Following arraignment in county court, bail on this arrest was set at $20,00 and Bush was returned to Lakeview Correctional Facility.
He is serving from one-and-a-third to four years for driving while impaired by drugs with a prior offense, arriving in prison Sept. 13, 2012. The conviction may stem from a May 2011 arrest of Bush for felony driving while ability impaired by drugs, felony aggravated DWI with a child in the car (Leandra's Law), felony aggravated unlicensed operation, four counts criminal possession of a controlled substance, 7th, and unlawful possession of marijuana.
In the past couple of years, Bush has also been charged with petit larceny, criminal contempt and harassment.