February 21, 2014 - 7:04pm
Mary Pat Hancock, Humphrey Award winner, loved serving Genesee County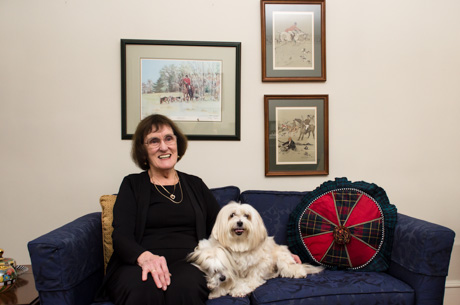 All of the most important legislative accomplishments of the past 20 years -- the period Mary Pat Hancock served the 4th District -- are of "a piece," Hancock says.
In that time the Legislature paved the way for countywide water, created a comprehensive plan, a smart-growth plan, instituted farmland protection measures, turned the Industrial Development Agency into the Genesee County Economic Development Center and set the county on a path toward greater prosperity and stability.
None of those initiatives can really be considered separately from the others, Hancock said.
"You weave a fabric," Hancock said. "The different kind of things that go in and out and then you have a piece. But without that one strand or without those different threads, it just doesn't make anything. It falls apart."
Hancock was skeptical about running for the Legislature in 1992 when friends first approached her to fill the vacancy left by Steve Hawley's departure for the state Assembly.
She wasn't sure if she would have the time and if she was up to the task, but they persuaded, noting her with her school board experience, her study of governmental administration (school administration, specifically) and the fact that she would need to attend only one meeting a week. So she decided to give it a try.
It turned out she had to beat a primary challenger, and her election led to 20 years serving the people of Genesee County, the last decade as chairwoman of the Legislature.
All that service -- service that stretches back in Genesee County more than a decade prior to her election to the Legislature -- is why the Chamber of Commerce selected her to receive the Wolcott "Jay" Humphrey III Excellence in Community Leadership Award.
Hancock said she is humbled by the award because she knew Humphrey and how dedicated he was to Genesee County and how enthusiastic he was about improving the quality of life locally.
"When we were looking for somebody to be in charge of the IDA, he just found that task so important. I was one of the people on the committee to select the person and he came to me about it and I said we we were doing our best, and he said, 'no you don't understand.' "
Later, Hancock was on one of the annual agricultural tours, but she had taken her own car because she had to leave early. As she was leaving, Humphrey jumped into the passenger seat of the car and asked how the search was going for a new head of the IDA, what would become the GCEDC.
"He said, 'you're not taking this seriously enough,' He said, 'this is so important.' Then he gave me this whole thing about how it could impact our county and how we could have all of these industrial parks. He had it all right there in his mind and I thought, 'Oh, my, I hope I don't screw this up.' "
Genesee County has always been important to Hancock, as it was to her parents, who always maintained a home here even as her father's job -- a VP with the railroad -- took the family to Pittsburgh and Chicago.
"It's just such an extraordinary place. The people are extraordinary. The physical beauty of the county is just bar none."
Hancock was born in Pittsburgh, went to elementary school in Batavia. In middle school her family moved to Chicago. She got her degree in education from Northwestern University and then taught English and Art at a school Lake Forest, Ill.
After a couple of years of teaching, Hancock decided she wanted to get her master's degree and become a school counselor.
Her parents weren't too keen on the idea.
"My parent were very proud that I graduated from college, but they really didn't think it was necessary for me to go on and get a master's degree."
Even so, she managed a fellowship for the University of Buffalo, so neither she nor her parents had to pay for her graduate degree.
It was at UB that Mary Pat met Bill, whom she married in 1957. They would have four children: Billy, an educational counselor, Ann Marie, a nurse with a school district, Tom, a school psychologist, and Katherine, who works in early childhood education.
Bill received his dental degree the same day Hancock received her master's and the couple had their first child.
Hancock essentially took 20 years off from her career in education to raise her family.
Bill worked in public health service and the family moved to Chicago, New York City and Buffalo.  Bill had plans to become an orthodontist, but then decided maybe it would be better to open a private practice in Oakfield, so the family returned to Genesee County.
While raising her family in Batavia, Hancock got involved in the community. She ran for the library board. She served on the school district board and on the BOCES board.
Once the kids were grown, Hancock decided she wanted to do what she once trained to do, become a school counselor.
She had to be recertified, which turned out to be a lot more work than she expected, and she took classes at UB, RIT and Rochester so she could get up to speed as quickly as possible.
When there was an opening at Batavia Middle School for a counselor, she applied for the job, but when she showed up for the interview, she found that instead they were interviewing her for a counselor's job at the high school.
Hancock was a counselor at BHS for 20 years, a job, she said, that she loved.
"It was a great job. It was super. The children, the kids, the fact that you never had a dull day. If you were feeling kind of down, the people at the school, my gosh, they were such fun."
In the midst of her 20-year career at BHS, she was elected to the County Legislature, which worked out because even the Legislature's committee meetings are after the school day is done.
There was a sense in those early days on the Legislature, Hancock said, that the county wasn't as well organized as it could be. Issues were dealt with in a piecemeal manner. There was no plan.
That was exemplified by the County Airport.
"When I first got up there, there were some things we just constantly, constantly, constantly talked about meeting after meeting after meeting. One of them was the cost of the airport and (the) insignificant contribution it was making to our county. Some said just get rid of it because it was causing problems and losing money. More than that, it was just a wrangle and I thought this is no fun. It was just a wrangle."
Eventually, the airport went from money loser to money maker, but only after the county began to get organized, first under Chairman Roger Triftshauser, then under Hancock.
"We needed to take a deep breath and focus. I was not the only one who felt that way. It was just such a muddle."
The first big item to focus on was bringing countywide water here in cooperation with the Monroe County Water Authority.
Asked if that wasn't just a big political mess, Hancock said, well, yes, it was political, but you've got to understand ...
"There were a lot of people, a lot of entities, a lot of towns, villages and the city, involved. The people were doing the work representing their particular spots, their towns, their villages, their city, so of course there were politics because all politics are local. Those individual areas wanted to make sure they were well represented. They wanted to make sure the deal wasn't going to be lethal for them."
While the water deal was still being hammered out, Triftshauser retired and Hancock was elected chair.
That was quite a turbulent time to take over such a big job, Hancock said.
"That was an exciting period of time. When Roger left, it was scary to take over because there was so much going on, but it was also exciting."
It was at this time that the county was tackling a comprehensive plan -- which also involved all the towns and villages and city -- a smart-growth plan, which goes along with countywide water, farm protection and the creation of industrial parks, and transforming the IDA into the GCEDC.
Again, all pieces of the same cloth.
"It really works when you are short of resources if you're long on planning so you can protect yourself from some big mistakes."
Among the accomplishments during Hancock's tenure that she says she's proud of is the county taking over the Office for the Aging from the city, merging the public health departments of Orleans and Genesee counties and renovations to the nursing home.
Hancock's had a pretty busy 10 years. She became chair around the same time Bill died. She's thrown herself into her work.
"This honor (the Humphrey Award) is just something above and beyond anything I ever expected," Hancock said. "I I don't think I deserve it. I went to work every day because I wanted to go. I was in a hurry every morning to get to work because there was so much to do. That was a treat and it was a reward to do that."
Now, Hancock said, it is time to take care of herself. She's enrolled in Tai Chi and Yoga at the Y. She's looking forward to riding her horse some more. She's painting her basement. She's watching the Winter Olympics (something she wouldn't necessarily have had time for in the past). She plans to travel. She plans to visit her grandchildren more. There's a lot she wants to do.
"I would like to live a thoughtful life. Before my retirement, it was getting to where I was just doing one thing right after another. So many plans were put on hold. There were so many things I had to cancel. I would like to make sure the time I have is productively spent."
Which means a plan. Mary Pat Hancock would never be without a plan. It's how you weave the fabric of life.
"I'm a great planner," Hancock said. "I like to plan. It's time for my own comprehensive plan."