August 6, 2014 - 12:01pm
Mercy Flight called for an accident on the Thruway involving a motorcycle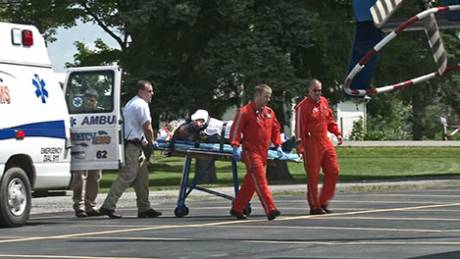 Mercy Flight is being dispatched to a landing zone the Indian Falls Methodist Church on Route 77, Pembroke, for accident on the Thruway.
The accident involves a motorcycle, though the driver was last reported as conscious. 
Indian Falls Fire and Pembroke Fire dispatched to the accident scene, along with Mercy EMS. Corfu Fire requested to the landing zone.
UPDATE 12:03 p.m.: Mercy Flight has landed.
UPDATE 12:30 p.m.: Mercy Flight is airborne, "possibly to ECMC." The assignment is back in service.
UPDATE: Photo and update info by Alecia Kaus / Video News Service. Chief Ed Mileham said the rider was headed east on the Thruway with a group of other riders when the accident occurred. He landed in the median. Mileham said his helmet saved his life. There was a big softball-sized dent in it. He was transported to ECMC with apparent serious injuries.