April 28, 2014 - 12:47pm
Minor injuries reported in early morning rollover accident in Stafford
A driver says he may have fallen asleep while on Route 63 in Stafford at 2:13 a.m., leading to a rollover accident.
The truck driven by Cody A. Paxton, 21, of New Providence, Pa., is owned by Norfolk Southern Railway, and it came to rest on all four wheels.
Paxton suffered minor injuries and was transported by Mercy EMS to Strong Memorial Hospital.
The accident was investigated by Deputy Joseph Graff.
Photos submitted by a reader.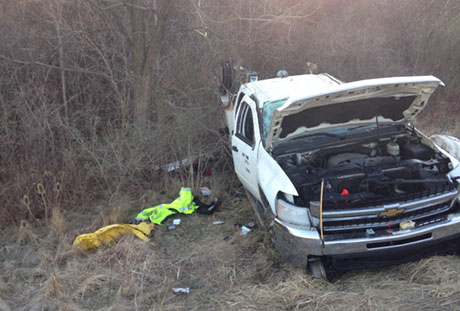 April 28, 2014 - 1:12pm
#1
I am very thankful that he wasn't hurt too bad and that it wasn't his personal truck. My only regret is that there is not a YouTube video of it happening in real time, although the pictures give me enough info to see it in my mind.
It's like the time I jumped a fence while too high and broke through the ice into a slow moving creek that I didn't even know was there. (Attica, circa 1973)
I walked to my sister's apartment in a snowstorm while soaking wet and missing one shoe. I still wonder where the pigs were, I should have been busted.
No more Darvocet and shots of Bourbon for me.