January 31, 2013 - 9:34am
Minor power outages, minor accidents on a morning of light snow, cold and strong winds
posted by
Howard B. Owens
in
weather
.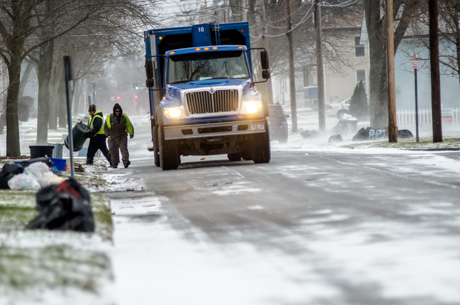 The day started off with strong winds, a bit of snow and icy roads.
Crews were out early salting highways and law enforcement officers were dispatched to a few minor accidents, including a tractor-trailer that took out a power pole in the area of Texaco Town. Currently, some 61 National Grid customers in that area are without power.
There have also been reports of power and phone lines down in various parts of the county.
Winds are currently blowing at 25 mph with gusts up to 41 mph and strong winds are expected to continue for at least a couple more hours.
More light snow is possible.
Some snow is predicted for tonight with a light breeze.
There are currently two other power outages in Genesee County. One is in Elba and 21 customers are without power and in East Bethany, where 24 customers are without power.
In Pavilion, power should be restored by 11:30 a.m., in Elba by 10:30 a.m. In East Bethany, crews are assessing the situation.
Photo: Genesee ARC workers collect garbage in windy, 27-degree weather on Liberty Street.