August 12, 2014 - 3:41pm
Moss, but not Astorino will make campaign stops in Batavia today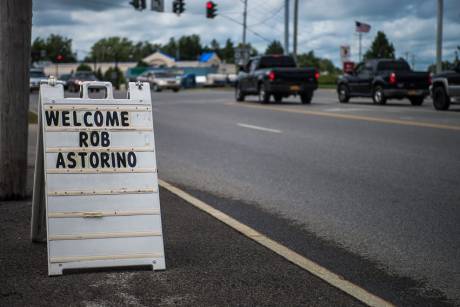 Gubernatorial candidate Rob Astorino was scheduled to be in Batavia today, but he had a family emergency and is unable to make his scheduled campaign appearances.
His running mate Chris Moss will however be at the the GOP Women's meeting at 6:30 p.m. at Batavia Downs, and then he will also speak at the SCOPE meeting at 7 p.m. at Calvary Baptist Church, 3515 Galloway Road.
The sign placed in front of Batavia Marine on West Main anticipated Astorino being in town today, but then his plans changed.
Astorino, who hopes to unseat Andrew Cuomo, has been crisscrossing the state for several months, but has yet to make an appearance in Genesee County.
CORRECTION: Astornio visited Genesee County two days after announcing his candidacy. He made an appearance at Larry's Steakhouse.