July 10, 2012 - 7:54am
Motorcyclist said he feared collision with train, so laid bike down at crossing
A motorcyclist laid his bike down Monday afternoon to avoid what he thought would be a collision with a train at a railroad crossing on Molasses Hill Road, Bethany.
Richard T. Apps, 58, of Alexander, was riding north on Molasses Hill at 1:08 p.m., at a time when a Norfolk and Southern train was stopped on the east side of the railroad crossing.
As the train started to move west, according to Deputy Joseph Graff's report, it sounded its horn and the crossing gates were activated.
Apps reportedly said he saw the gates lowering and heard the horn. He said he was startled and applied his brakes.
"The motorcyclist laid the motorcycle down on its left side to avoid what he thought would be an anticipated collision," Graff wrote in his report.
Graff said Apps had a limited view of the railroad crossing due to a crest in the road and trees blocking the view to the east.
Apps suffered only minor injuries and did not require an ambulance transport to the hospital.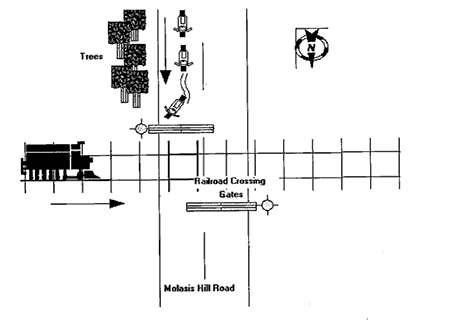 (Note: Rendering from Police Accident Report. Not to scale.)
July 11, 2012 - 11:53am
#1
That's a terrible crossing. Glad to hear he's okay.
Richard, if you read this, what's the status on the bike?!