June 24, 2014 - 11:40am
Motorcyclist who struck deer still listed in critical condition at ECMC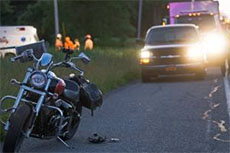 The motorcycle driver who hit a deer on Pearl Street Road early Monday morning remains in critical condition at ECMC.
Brandon L. Scott, 23, of Darien, was westbound when a deer entered the roadway ahead of him and the front wheel of his bike struck the hindquarter of the deer.
Scott was ejected from the motorcycle and suffered serious injuries, according to a Sheriff's Office news release.
He was transported by Mercy Flight to ECMC. 
Scott was wearing a helmet at the time of the accident.
The investigation is being conducted by Deputy Andrew Hale, Deputy Frank Bordonaro and Sgt. Eric Seppala. Assisting at the scene were members of the East Pembroke Fire Department and the Town of Batavia Fire Department along with Mercy EMS.
June 25, 2014 - 6:52pm
#1
To the family of Brandon Scott keep praying, keeping talking to him even when he is not awake. Never give up hope. Brandon will be in my prayers. I am also a fellow customer of ECMC ICU.