August 9, 2014 - 10:10am
Muckdogs downed by Yankees 4-2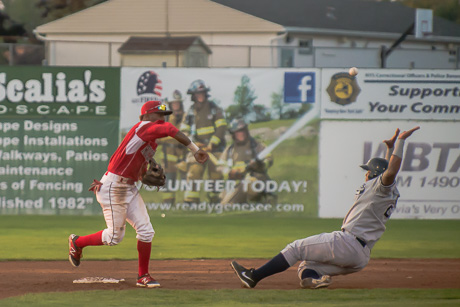 The Yankees are in town, and that helps. So does post-game fireworks. Either way, 1,500 baseball fans came out to Dwyer Stadium on Friday.
Alas, the Muckdogs lost, 4-2.
Sadly, that's been the trend for the hometown team recently. Batavia has lost seven of its last eight games. All low-scoring affairs.
At 24-30, the Miami Marlins affiliate is fourth in the Pinckney Division, trailing first place State College (now the Cardinals affiliate) by nine games.
Last night's game completed a three-game series with Staten Island, which gave local New York fans a chance to see some of the Yankees prospects, including 18-year-old catcher Luis Torrens. The Venezuelan was signed as a free agent by the Yankees at age 16, when he was considered one of the top two international prospects.
He's hitting .304 on the season, but Batavia pitching kept his bat silent in this series. His only hit came last night.
For the Muckdogs, second baseman Mason Davis continues to impress. He's hitting .329, fourth best in the league, and had two more hits Friday. 
John Norwood also had a two-hit game. Norwood is riding high after signing with the Marlins six days ago as a free agent. Norwood hit one of the few home runs in this year's College World Series, and the dinger propelled Vanderbilt to its first national championship in baseball. Norwood, who decided to forego his senior season to turn pro, is off to a hot start in three games, with four hits in 10 at bats.
Catcher Christopher Hoo, a 27th round draft pick out of Cal-Poly, also had two hits.
The losing pitcher was Scott Squier, a 16th-round draft pick in his first professional season. He gave up three earned runs in four innings. This was his second start. He's 1-2 in nine appearances with a 3.00 ERA.
New York Mets fans can come out to Dwyer Stadium the next three days to check out Mets prospects while the Brooklyn Cyclones are in town. Tonight's game will include post-game fireworks. Game time is 7 p.m. On the mound for the Mets tonight is Marcos Molina, a top-10 prospect who is 5-1 with a 1.27 ERA.