May 2, 2012 - 12:23am
New classroom will give Alexander students a place to learn in the great outdoors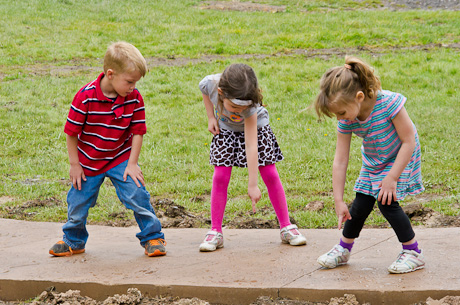 What started as a Pepsi Challenge award for a new playground has evolved into something much more ambitious at Alexander Elementary School.
Rather than build just another set of swings, slides and monkey bars, faculty at the school have started an ambitious project to build an outdoor classroom.
"There's a lot of the research out there no indicates that kids don't get enough time outside," said Ellie Jinks, the teacher behind the push for the $50,000 Pepsi grant, but after doing more research, realized the money would be better spent starting an outdoor classroom.
Jinks noted that research shows that children who don't play and learn outside are more susceptible to obesity and later in life, substance abuse.
Principal Matt Stroud also thinks it's important to get children outside more often.
"I know with my own kids at home we try to push them outside as much as possible, but in a school setting it sometimes gets pushed to the wayside," Stroud said. "This is just a great opportunity to get them back to what kids used to do."
Phase one of the project -- which must be completed to specification for the area to be certified as an outdoor classroom -- has 10 stations, with each having a different learning focus.
The goal of the outdoor classroom is to offering learning experiences in not just nature and science, but math, music, art, reading and physical education.
"The focus really is on learning," Stroud said, "but there will also be unstructured play time."
The Arbor Day Foundation and Dimensions Educational Research Foundation are helping with the planning of the outdoor classroom, but once construction is complete, Dimensions will also provide teacher training and professional development to help Alexander's educators get the most out of the four-acre classroom for the kids.
While the elementary school has pushed the initial effort for the classroom, it's not intended to be just a young-child learning and play area. Once the focus shifted from a playground to an outdoor classroom, teachers from the high school were also brought into the planning process and the classroom is designed to meet the needs of students all the way through 12th grade.
Jinks, who teaches pre-school, hopes the classroom will give students a chance to explore, to learn cooperation, but also develop an appreciation for nature.
"When my pre-schoolers go out now they just want to step on all the bees and kill all the ants," Jinks said. "We talk about protecting nature and why we want to protect it, so we hope that will be an outcome of the classroom."
To complete all three phases, it will take more community support, Jinks said. The school is actively looking for volunteers to help with the project, as well as donations of money and material.
At 6 p.m., May 9, the school will host a community open house, when residents can see first hand what the outdoor classroom is all about and learn how they can contribute. The school is located at 3314 Buffalo St. in Alexander.
For more information about the Alexander outdoor classroom, click here.
Top photo: Pre-school students Deacon, Catrina and Rachael check out some of the animal prints pressed into the concrete walk way at the entrance of the outdoor classroom.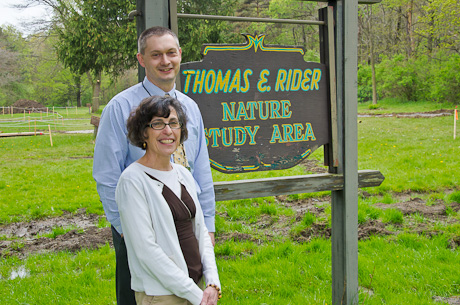 Jinks and Stroud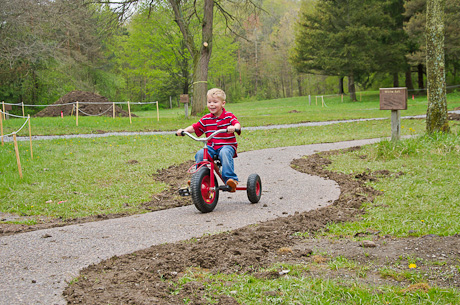 Deacon on the wheel toy path.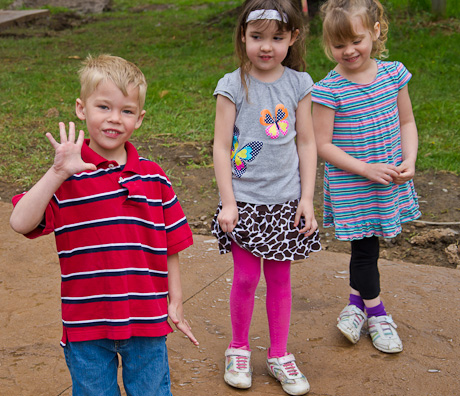 It was Deacon's birthday Tuesday, and when asked how hold he was, he happily showed us. He's 5.
I am so excited to see how this turns out when it is all finished!! I know my son is also excited to be able to take school outside!