August 14, 2014 - 3:15pm
New owners, employees, community leaders celebrate the saving of a Batavia institution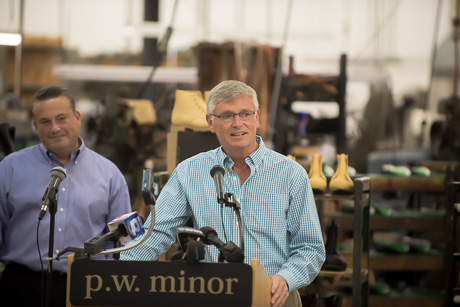 The employees are happy. Local officials are happy. Pete and Andy are happy. Everybody's happy.
Even the costume designers for the hit HBO series Empire Boardwalk are happy (at least we assume so -- they'll still be able to order p.w. minor shoes for the show).
A Batavia institution, along with 70 local jobs were saved by two local businessmen. Today, speaker after speaker praised Pete Zeliff and Andrew Young for stepping forward just a month ago when they heard the 150-year-old shoe company was closing to buy it and keep it going.
Zeliff and Young plan to do more than just keep the doors open. They vow to expand the business and create more jobs in Batavia.
"The struggles of this company are over," Young said. "We're going to make it work, OK. Once again, we'll make this company the epitome of 'Made in America.' "
They've gotten some help from Empire State Development to help make the purchase possible.
Regional Director Vincent Esposito announced ESD is making available $450,000 from the agency's Excelsior Jobs Program. To qualify, Zeliff and Young had to pledge to create jobs and make a significant capital investment in the company.
Young and Zeliff were also planning to apply for $269,000 in tax abatements from the Geness County Economic Development Center, but that application was tabled Monday on the advice of the agency's attorney.
The attorney is researching the matter further, according to Ray Cianfrini, chair of the Legislature as well as a GCEDC board member. But it appears that so long as Zeliff is a member of GCEDC board, p.w. minor can't receive assistance from GCEDC.
Zeliff has a big decision to make -- resign from the board and apply for the tax relief, or stay on the board and move p.w. minor forward without any further tax breaks.
Zeliff said he's made no decision yet and offered little insight into his thought process on the matter. He did note that serving on the GCEDC board is a volunteer position. Directors are not paid.
Former GCEDC Board Chairman Charlie Cook, CEO of Liberty Pumps, resigned from the board when it came time for his company to expand and Liberty applied for assistance from GCEDC.
Today, Cianfrini spoke at the press conference -- really a celebration -- at p.w. minor's facility on Treadeasy Way.
"Today is not only a great day for p.w. minor and all of its employees," Cianfrini said. "It's a great day for all of Genesee County. We need to recognize how fortunate we are to have people like Pete Zeliff and Andy Young, who are dedicated to economic development, here in Genesee County, who are willing to get personally involved in economic development."
City Councilman John Canale recalled touring the p.w. minor factory on State Street when he was a child, and talked about how he grew up with the company being an ever-present part of the community his entire life.
"p.w. minor is an icon," Canale said. "It's a Batavia institution. When I found out that institution would no longer be in business, I felt like I had just read the obituary of someone that I knew and loved in this community. Today makes it a very happy day, in that two guys with a bit of ambition and a whole lot of entrepreneurial spirit decided this institution needs to continue in this community."
After the speeches, attendees were invited on guided tours of the plant to see how shoes are made in Batavia.
A few lucky people even got to see the shoe sent to the costume designers of Boardwalk Empire.
With media around, a couple of employees demurred at being interviewed, and at one point, as a worker was surrounded by photographers, Young asked her, "are you mad at me (for bringing the media over)?" Another employee nearby spoke up, "How could we ever be mad at you? You saved us."
The average p.w. minor employee has been with company 24 years.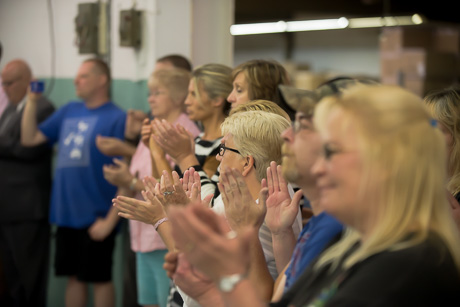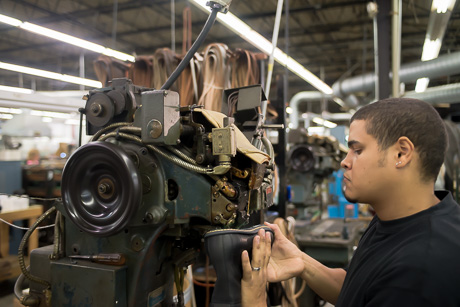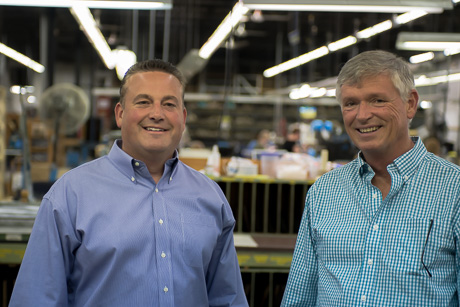 Andrew Young and Pete Zeliff.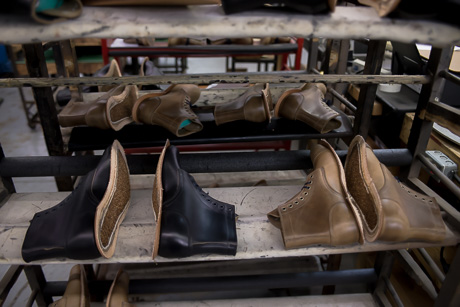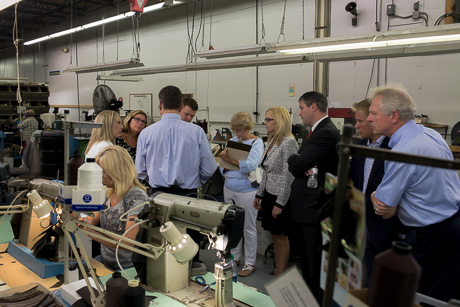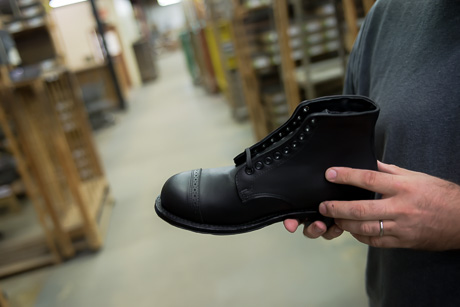 The style of shoe sent to the set of Boardwalk Empire.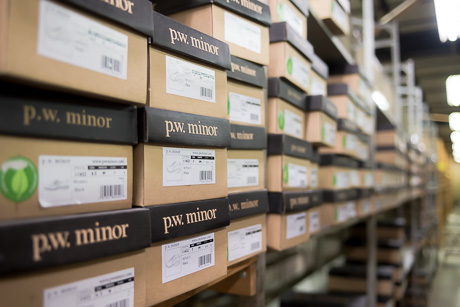 UPDATE: After the jump, a press release from Gov. Cuomo.
Press release: 
Governor Andrew M. Cuomo today announced that p.w. minor, a manufacturer and international distributor of leather footwear and orthopedic products in Batavia, will remain open and retain more than 50 manufacturing jobs, as well as create 17 additional jobs.
p.w. minor was scheduled to close on July 31, but will instead remain open under new local ownership and management. 
"The new ownership of p.w. minor will keep an historic and valued company in Batavia, just where it belongs," Governor Cuomo said. "Our top priority is not only to attract new businesses to New York, but also to ensure that the ones already here will be able to grow. I thank p.w. minor for making Western New York their home, and welcome their continued growth and success."
The new owner of p.w. minor is Batavia Shoes LLC, headed by Andrew Young and Peter H. Zeliff.
p.w. minor, which was founded by two brothers in 1867 shortly after they returned from fighting in the Civil War, is one of a few remaining shoe manufacturers in the United States and the oldest company in Genesee County.
Andrew Young said, "Our goal is to not only keep the company open but to grow the business and create new jobs. We would not have been able to make this transaction without the assistance from Empire State Development. It's just another example of the public and private sectors coming together to not only keep a homegrown company where it belongs, but also to create new jobs and economic development for the city and region."
Peter H. Zeliff said, "Andrew and I are very committed to our community and this was an opportunity where we could team up and use our entrepreneurial skills to continue the operations of a manufacturing facility with extremely deep and historical roots in Batavia and Genesee County. We are confident that our business plan will create a new history for this iconic worldwide brand."
Batavia Shoes LLC will be purchasing the assets of the company for $2.85 million. Empire State Development will provide up to $449,505 in performance-based Excelsior Job Program tax credits in return for the new owners' job creation commitments.
Kenneth Adams, president, CEO and commissioner of Empire State Development, said, "New York State and two local investors stepped in to save p.w. minor and it's the best possible outcome for the more than 50 employees who were set to lose their jobs. 'Made in America' products, like the handcrafted quality shoes made by p.w. minor employees for nearly 150 years, will continue to be a source of pride for Genesee County for years to come."
Peter H. Zeliff is the senior executive vice president and chief operating officer of EIF Renewable Energy Holdings LLC, which wholly owns Innovative Energy Systems of Oakfield, New York, an independent developer and energy provider specializing in the recovery and utilization of landfill gas. He is a graduate of the Rochester Institute of Technology.
Andrew Young is founder and presently serves as president of The Young Group of Real Estate Companies. Young cofounded PakHound Parcel Logistics, a start-up company that was once named one of Western New York's Fastest Growing Companies. He received the prestigious "Forty Under 40" award from both the Rochester Business Journal and Business First of Buffalo. Young also is a graduate of the Rochester Institute of Technology.
Senator Michael H. Ranzenhofer said, "p.w. minor's decision to continue doing business in the City of Batavia, as well as its commitment to retain 50 local jobs and create 17 more, is proof positive that Genesee County is a good place to operate a business. The opportunities for Genesee County residents continue to grow."
Assemblyman Stephen Hawley said, "Locally owned businesses are the lifeblood of the Batavia and Genesee County economy. This announcement is great news for the employees of p.w. minor and their families. Genesee County is a great place to start and own a business, and I am thankful to Pete Zeliff and Andrew Young for re-energizing p.w. minor as an historic mainstay of our Western New York economy!"
Genesee County Chairman Raymond F. Cianfrini said, "Today is a great day for p.w. minor and its employees and a great day for Genesee County. Our thanks go out to Peter Zeliff and Andrew Young for saving this historic business on the brink of closure. We in Genesee County are fortunate to have these two individuals who are committed to economic development and who are willing to use their own money to help keep our county vibrant."
City of Batavia Council President Brooks Hawley said, "p.w. minor has been an iconic company in Batavia for well over 100 years and it would have been a tremendous loss to see the business close its doors and lose good jobs in our community. Thanks to the Empire State Development for the State's incentives and to the commitment of new, local owners, Andrew Young and Peter Zeliff, p.w. minor is opening its doors again and growing."
August 14, 2014 - 4:57pm
#2
Who is that handsome devil in the first pic after the article wearing the blue shirt in the back recording the whole thing on his iphone 5? :)
It was a VERY exciting day today. Now that all the hoopla is over, it's time for us to roll up out sleeves and get to work, not that we were not doing that already :) We have a truly amazing workforce in place right now, and we will be a fortune 500 company in no time :)
Thanks so much again to Peter and Andrew for this opportunity. This cannot be said enough.