September 19, 2012 - 12:31am
New roadway will connect agri-business park to Route 63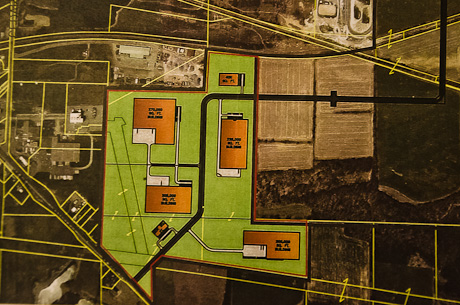 Town of Batavia planners are pushing forward with a proposal to add a second roadway into the Genesee Valley Agri-Business Park, connecting the park with Route 63.
Town Engineer Steve Mountain said the need and opportunity for the roadway is driven by the requirement of the Muller Quaker yogurt plan for a gas main into the park and a $1 million grant for infrastructure upgrades from state's Office of Community Renewal.
The roadway was always part of the plan, Mountain said, but not until Phase 3.
In the nearer term, the town was going to construct an emergency vehicle access road through the County Highway Department's lot on Cedar Street, but it is more cost effective, Mountain said, just to build the connector to Route 63 now.
The design of the roadway needed to coincide with the gas main design for Muller Quaker, and Muller Quaker wanted to bring the line in through vacant property to save costs.
The vacant land is primarily made up of parcels owned by O-AT-KA Milk Products and local farmer Don Partridge.
The town is negotiating now with both property owners for a right-of-way access, but all of that land (in green on the map) was always intended to be part of the Phase 3 development of the agri-business park (and has already been through the environmental review process).
Mountain said Phase I of the park is already nearly full and it's his understanding that Partridge has received offers on his land.
Currently, the only developed roadway into the park is from Route 5.
Alpina Products will hold a ribbon-cutting Monday for its new facility, which will initially employ 50 people.
Next year, the Muller Quaker plant, a joint venture between PepsiCo and the Theo Muller Group, will open with an original staff requirement of about 200 people. A mushroom farm and labeling facility (already open) are also among the park's first announced tenants.
Initially, Phase 2 of the development was to extend the rail line into the park, but there's been no demand for it yet from potential tenants.
Among the benefits of the Route 62 access point is that O-AT-KA will be able to use the roadway for truck traffic to his own facility, making the intersection of Route 63 and Cedar Street safer.
A public hearing on the revised planning map is set for Tuesday, Oct. 16, at Batavia Town Hall. More details of the project will be revealed then.