November 20, 2012 - 9:18am
New Tim Horton's on Lewiston Road one step closer to approval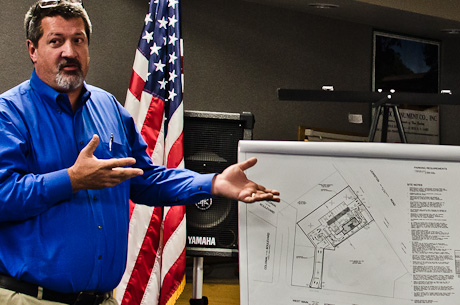 Tim Horton's is moving forward with plans for a new location in Batavia, on Lewiston Road, near West Main Street Road, and the company cleared another regulatory hurdle Monday night.
The Town of Batavia Zoning Board approved a setback variance for the restaurant building, allowing the structure to be located about 15 feet from the property line.
The current, vacant, building is 10 feet from the property line and the local zoning law requires a 30-foot setback, unless a variance is granted.
The zoning board approved the variance unanimously.
The board also completed a short-form environmental review and found that the one issue to be resolved is what traffic impact a Tim Horton's will have on the already busy intersection of Lewiston and West Main.
A couple of area residents spoke out against the proposed location saying additional traffic will make an already bad intersection all that much more dangerous.
A Department of Transportation traffic study for the proposed site has already been ordered and the town's planning board will take up that issue and any other issues at a public hearing Dec. 5.
Bob Bender, real estate project planner for Tim Horton's, said he doesn't know what the traffic study will show and didn't speculate about any findings.
There would be two ingress and egress points to the proposed location, one off of Lewiston Road and the other off West Main Street. The blueprint shows the West Main driveway in the same location as this tree.
The building will be 1,953 square feet.
A franchise owner for the location will not be announced until the project is approved, Bender said.
If the project is approved, construction would start in March or April.
November 20, 2012 - 3:49pm
#4
Alright ENOUGH ALREADY! I say, make them promise to leave the tree. That tree is beyond beautiful, and there is plenty of other places to buy coffee. If you have the money to buy your coffee at Tim Hortons, you have the money to drive a mile to the one near wendys. I dont know why, but this gets me really mad. "Pave Paradise to put up a parking lot" We have Human Rights, Animal Rights, when does nature get some rights?
Its time to make a choice people, Would you rather live in a town where you can buy coffee every 1/2 mile? Or a town where there is Beautiful, old growth trees lining many many many of the streets?