October 23, 2012 - 8:44am
No contract and an endless fight between contractor and homeowner in Stafford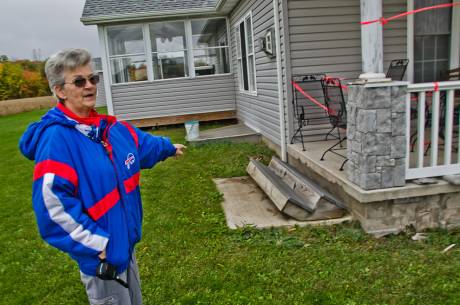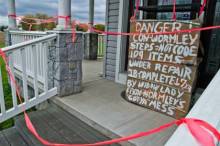 Retired nurse Valerie Hill says she hasn't had a place to live for seven-and-half years, and she blames a local contractor for leaving her with a new house that can't pass final inspection.
The contractor, Bryan Wormley, said Hill would have gotten a certificate of occupancy in 2005 if she had let him complete the work.
The home, at 5520 Horseshoe Lake Road, Stafford, was supposed to cost $200,000. What is has wound up costing both sides is a lot of grief, heartache, worry and attorneys' fees.
Neither Wormley nor Hill ever signed a contract, a mistake they say they both now regret.
"That part is definitely my fault," Wormley said. "I was trying to help her out."
Wormley and Hill had known each other for some time before an afternoon in 2005 when they crossed paths shortly after Hill returned from Punta Gorda, Fla., where Hill has a winter residence. Hurricane Charlie had just devastated her community there and two of her friends died in the natural disaster.
Hill was relaxing beside a pond on her daughter's property in Stafford that day. She said Wormley drove up in a golf cart.
"He came over to me and put his arm around me and said, 'Oh Valarie, I hear you've been through a terrible time, and that you're going to build a house,' " Hill said. "He told me he had been building houses for 18 years. He made these wonderful promises to me. At that point of my life I had been through a lot down in Florida. He promised me it would be wonderful."
Hill already had blueprints and another contractor had said he could build the home for $239,000.
According to court documents, Wormley promised Hill he could build the home for $200,000.
At trial, Wormley reportedly admitted that while he reviewed the blueprints, he never prepared a formal cost estimate.
There is also disagreement over whether the agreed upon price of $200,000 was supposed to cover any changes or modifications to the plan.
There were apparently numerous changes -- and some dispute over whether these were actual variances to the the verbal agreement between the two parties -- and none of the changes were documented with signed work orders.
Following the bench trial, which ended in February, Judge Robert C. Noonan awarded Hill $45,000, plus interest, resulting in a money judgment against Wormley for $71,967.
Noonan's ruling found in Hill's favor on one cause of action -- breach of contract by Wormley.
Hill said she's spent $130,000 on attorney fees, Wormley puts his legal bill at about $80,000.
Citing case law, Noonan arrived at the $45,000 figure based on the estimates received by the court. The low estimate is $17,680 submitted by Ed Leising. The $45,000 estimate was submitted by Ronald Cudney.
Hill submitted an estimate "to bring the property up to Hill's expectations" of $54,090.
Wormley said he doesn't have much respect for Cudney, considers the estimate way out of line and said the house could be completed for $15,000.
According to Noonan's written decision, Hill paid $182,000 during construction of the house. Wormley claimed a total of $244,130 should be paid. Based on evidence, Noonan reduced that price to $231,850.
Hill also paid $36,500 directly to various vendors.
That meant Hill was entitled to total credits of $218,500.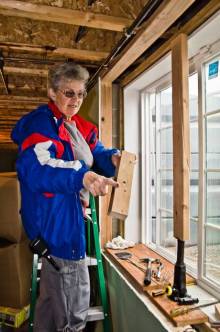 "However, other than sporadic invoices, there is no document, job cost report, or other accounting document which sets forth the amounts Wormley expended," Noonan wrote. "Wormley acknowledges that there is nothing in writing which memorializes Hill's agreement to pay any of the alleged extra or additional charges."
The court found in favor of Wormley on $16,950 in charges. Given the finding in favor of Hill for $218,500 in credits, Wormley was due only $216,950, so Hill owed him nothing further, Noonan ruled.
Hill said she's heard through friends that Wormley has said he won't pay the judgment against him. Wormley flatly denies it.
He said he may be able to only pay $500 a month, but he intends to pay the judgment.
First however, Wormley said, he plans to appeal the judgment.
He thinks Hill lied on the witness stand on several points and that if he can prove it, he will win on appeal.
He also believes he has a case against Hill for defamation. He said anything she has told the news media about the case is a lie, that he believes she's under a gag order from the court, and he takes particular issue with a sign she's put on the front porch of the Horse Shoe Lake Road house that accuses Wormley of leaving the house behind with 109 code violations.
Wormley said the sign simply isn't accurate. He said there may be four or five items that need to be fixed to bring the structure up to code, but everything else on the list of trouble areas completed by Leising is either fixed or finished. They are nothing, he said, that would prevent Stafford's building inspectors from issuing a certificate of occupancy.
On the morning a pair of reporters showed up at Hill's place, Wormley (who has a temporary business location on Horseshoe Lake Road) drove by, stopped, took a cell phone picture and yelled, "I'm going to sue you for slander, Valarie."
When the reporters looked down, Hill asked if they had seen Wormley flip her off.
She claims Wormley has given her the finger before, and to her grandchildren.
Wormley characterized Hill as a habitual liar who has been going around town bad-mouthing him.
"This has gone on for several years," Wormley said. "Before this, I've never been to court once. I've never had a customer I couldn't satisfy. Valarie is a bold-faced liar."
Hill said she started feeling like a dissatisfied customer as soon as the basement was dug. She said Wormley's crews dug it too deep. That forced unwanted modifications to the house plans and caused flooding problems in the basement, she said.
"If I knew then what I know now, there should have been a stop work order right then," Hill said.
Then there were the changes in the plans, from the type of roof vents, the width of the stairwell going downstairs, the size of the Florida room and sliding glass doors to a dispute over whether the agreement even included a finished basement.
Hill also complained about crossed wiring, a garage door that doesn't open and numerous unfinished tasks around the house.
One of the things HIll said she insisted on -- and it's part of the blueprints -- is a roof vent along the length of the roof line. Instead, Wormely installed pocket vents.
"One of the things my husband told me before he died (that was 17 years ago) is that if he ever build another house, he would get a ridge vent," Hill said.
If there is one thing he knows well, Wormley said, it is roofing and he said in WNY conditions, a ridge vent is a bad idea. It doesn't circulate air well enough and is more prone to getting clogged with dust.
It would also be an easy fix, Wormley said, only a few hundred dollars to convert the roof to ridge venting now. He said he would have done it if Hill had allowed him to complete the project.
As for the width of the stairs, he said he was trying to compensate for a poorly drawn plan. The stairs are right at the front door and there wasn't enough space in the original plans for a person to walk into the living room. He said he considered it a safety issue.
As for the other items, he said they would have been finished if Hill hadn't locked him out of the house in October 2005, but he also said he had stopped sending work crews over out of concern that Hill had said she was running out of money.
This was right after Hill contracted with a local business to install a $35,000 kitchen.
Wormley was going to install a $15,000 kitchen using a local contractor who doesn't have a showroom.
Hill said she didn't want to buy a kitchen out of a barn.
Wormley said before Hill filed suit, he offered her $245,000 for the house and the property, and she turned him down. He said his attorney in Denver has documentation of the offer, and The Batavian requested the documentation. Wormley said his attorney can be slow to return calls now that the case is over. The Batavian has yet to receive the documentation.
Noonan found that Hill started denying Wormley and his crew access to the house because of her concerns over substandard work and unauthorized changes to the plans.
The too-deep basement meant, according to Hill, that she doesn't have as high of a stone face around the base of the house, that her basement windows that are supposed to be above grade, are below grade (and the back windows are too big), and that instead of having five stairs at the front of the house, she has only three.
Each summer, Hill said she's been trying to finish the house herself, dealing with the alleged code violations one at a time so she might be able to live in the house.
The house was supposed to make it easy for her to see her daughter and spend time with her grandchildren -- both teenagers now -- and those years have all been taken from her, she said.
After years of trying to get help, a local contractor finally did come to her place to help repair something and when he stepped on a back stairwell, she said, the stairwell collapsed and he was injured.
"The only person who has come to help me got hurt," Hill said tearfully. "That man fell through the steps and got hurt. I'm tired and I'm angry. I'm doing all of this work myself. I'm trying to get it pass code. I've lost 63 pounds since May trying to do this myself. I can't do it all by myself."
That incident is why she put the sign in front of the house, she said, naming Wormley and accusing him of leaving the house with 109 code violations.
Both Wormley and Hill claim to be in financial straits. 
For Wormley, his big setback came when the owners of the former Victorian Manor, Sunwest, went bankrupt. Contractors, including Wormley, lost $1.5 million on the remodeling project there.
Since then, Wormley has had at least one of his own properties go into foreclosure, piled up a couple of money judgments from vendors and is being forced to sell his office property on Clinton Street Road.
Hill said she's now out of money. She sold her 3,000-square-foot home in Stafford in 2005, anticipating moving into the new house just yards from her daughter's home (her daughter actually owns the lot Hill's house is on). Every dime she got from that sale, she said, has gone into construction of the new home or fighting Wormley in court.
All of Hill's belongings were moved into the house on Horseshoe Lake Road in November 2005 after her previous residence sold, but Hill said she hasn't been able to live there since there is no certificate of occupancy.
"I've been living with my daughter, her friends, other relatives, back and forth to Florida," Hill said. Breaking down, she added, "I've slept in a barn. When I wake up in the morning, I have to look around to see where I am. For seven and half years. Friends and family. I get tired. I feel like I'm in everybody's way now. I have no home of my own."
Wormley said this is just another of Hill's lies. He said when Hill sought reimbursement for her expenses, she provided his attorney with water and cable TV bills. The bills showed a spike in water use in the summer, and the cable was only turned on in the summer.
Hill has been living at the house, Wormley said, every summer since 2005.
"If you talk to any of the neighbors," he said, "they'll tell you they see her car in and out of the garage a thousand times a day."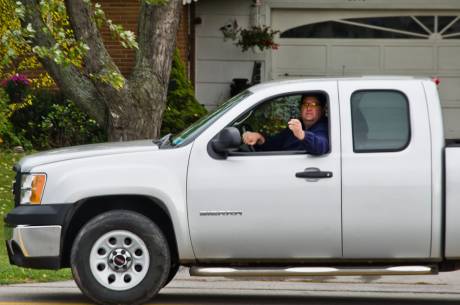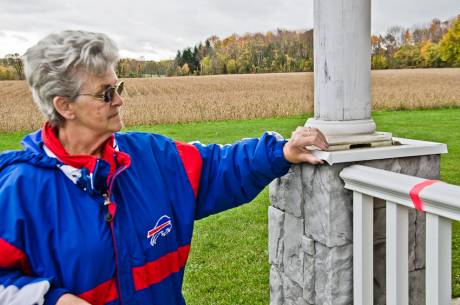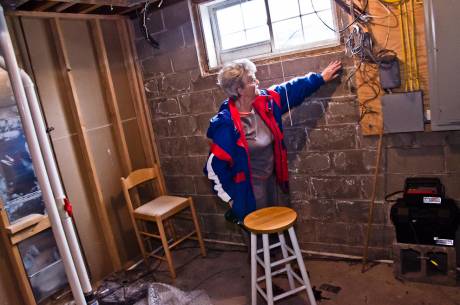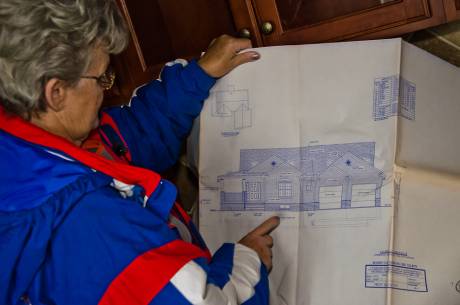 October 23, 2012 - 10:18am
#1
What a horrible circumstance they both find themselves in. As a reader, there is no way to determine who is telling the truth so I feel badly for both of them.
Seeing the water stains in the basement wall picture shows there is definitely a foundation problem, doesn't it?
And too bad for them both that they couldn't have resolved this. All the money their lawyers made from them would have built one hell of a house. Such a shame...
October 23, 2012 - 4:39pm
#2
It's so hard to trust anyone these days. Why would a legitimate contractor ... friend or not ... not draw up some kind of documentation for such a big undertaking. Doesn't make any sense. And now his reputation is damaged. I agree with Lori, it's a shame.
October 23, 2012 - 8:29pm
#3
I know my Dad hired Wormley to redo his entire roof. Wormley did it at a low cost, but till this day my Dad's roof leaks into the back bedroom. Wormley did come back to conduct repairs, but the problem still exist. All I can say, "You get what you pay for." My opinion on Wormley's quality of work is fair at best.