January 22, 2014 - 4:50pm
Noonan gives maximum available sentence to Alabama man convicted of child sexual abuse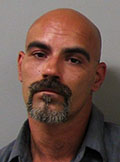 Earl Sprague
Convicted by a jury on 28 counts of sexual abuse, Earl Sprague will soon begin a 21-year prison term while still maintaining his innocence.
The 42-year-old Alabama resident was sentenced in Genesee County Court today by Judge Robert C. Noonan.
"It's a very sad circumstance, but the saddest part is that two kids have been victimized repeatedly over an extended period of time," Noonan said. "I do believe a serious sentence should be imposed over a lengthy period of time."
On the first three counts of sexual abuse the jury said Sprague did commit, Noonan gave Sprague seven years on each count to be served concurrently. On counts four through 17, again, seven years each, served concurrently, but consecutive to the first seven years. On counts 18 through 28, seven years each, running concurrent to each other, but consecutive to the first two groups of counts.
The three groups of seven-year sentences, served consecutively means Sprague will be locked up for 21 years, barring any time off for good behavior.
The sentence was the maximum available to Noonan under state sentencing guidelines.
District Attorney Lawrence Friedman told Noonan he would recommend Sprague spend the rest of his life in prison, if only that were an option for Noonan.
"It would be appropriate to send him to prison for the rest of his life, but that can't be done," Friedman said. "We will once again have to worry about what this defendant is going to do once he's out of prison. I would ask that you do everything in your statutory power to keep this defendant locked up for as long as possible as required by law."
Sprague will be on parole for 10 years following his release from prison.
Defense attorney Fred Rarick told Judge Noonan that his client had been prepared to make a statement in court, but after Noonan ruled that a television camera could record the proceedings, Rarick said his client informed him he would not make a statement.
"He can choose to make a statement or not make a statement," Noonan said. "This is a public courtroom and the presence of a camera only enhances the public nature of it to some extent. It's his choice."
Sprague made no statement.
The two young victims he was convicted of molesting had originally requested to appear at the sentencing and make victim impact statements, but neither appeared today. Instead, Assistant District Attorney Melissa Cianfrini read statements from both victims.
Rarick filed a notice of appeal and explained after court that he did so primarily to preserve his client's right to appeal his conviction. Rarick said it will be up to an attorney who specializes in appeals to review the transcript of the case and determine what if any issues might be proper for appeal to a higher court.
There could be an issue, Rarick said, with Noonan allowing the jury to hear evidence of Sprague's prior bad acts, including prior accusations of children molestation going back 30 years.
"My client respectfully disagrees with his ruling," Rarick said. "We thought he shouldn't let any priors in because it would take the jury's mind off what the real issues are."
From Rarick's point of view, those issues include an estranged wife who had motivation to keep Sprague from gaining custody of their children after she was accused of burglary and theft. According to Rarick, Penny Sprague made statements prior to Earl Sprague's arrest that she knew how a woman could get a man in trouble and that children could be convinced to make accusatory statements.
Rarick said there were never any accusations or concerns raised about Earl Sprague molesting these particular children until Penny Sprague became a suspect in a burglary.
Sprague will be back in court tomorrow because he still faces eight felony counts from another grand jury indictment, including two counts of burglary, 1st, sexual abuse, 1st, criminal sexual act, 1st, aggravated sexual abuse, 1st, two counts predatory sexual assault, a Class II-A felony, and one count of assault, 1st.
January 23, 2014 - 12:27am
#1
A very evil man gets his just deserves.
January 23, 2014 - 1:51am
#2
Apparently karma isn't done giving him his karmic rewards either Tom... Still has 8 felonies to answer to. Something tells me he's gonna have a life sentence anyway.