March 2, 2013 - 12:21pm
Notre Dame dominates second half against Romulus to claim Section V title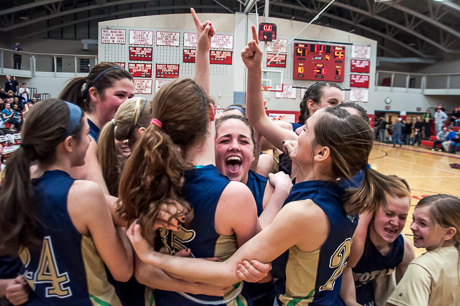 The Notre Dame girls put an exclamation point on their upset victory over Elba by claiming the Section V Class D2 title Friday in Gainsville against #3 seed Romulus, 56-41.
The Fighting Irish entered sectional play as the #4 seed, with only two losses on the season, both to the defending state champions and #1 seeded Lady Lancers.
Rather than an emotional letdown after beating the school's biggest rival, the Notre Dame girls came out fast and aggressive against Romulus, maybe a little too aggressive.
Riley Norton and Emma Francis seemed to knock down every three-point jumper they took and Romulus had a hard time scoring early in the game.
Midway through the first quarter, though, momentum started to shift and at the half, Notre Dame trailed 26-23.
Foul trouble dogged Notre Dame, with Norton and Laurie Call forced to sit because of two early fouls apiece.
Head Coach David Pero said he had his team trying some new defensive schemes, which ended up getting players out of position. Call said she was just had too much adrenaline pumping.
"I have a tendency to be aggressive, to put a lot of pressure on defense," Call said. "I had to calm myself down, dial my adrenaline down, and say, 'what do I need to do for my team,' and calm down, not try to get a steal, but get them to turn the ball over."
In the second half, Notre Dame went back to the defensive scheme that proved so successful against Elba -- the first time Notre Dame used it -- playing man-to-man.
And Pero was also able to put Norton and Call back on the court.
It was a whole different game through the final two quarters, with the Fighting Irish dominating the Lady Warriors, including a 10-0 run to finish the game.
"They struggled getting the ball up the floor and we knocked down some shots, made some free throws and the rest is history," Pero said.
Norton finished with 15 points, including 10 in the second half and was named tournament MVP.
She said the championship and the award were real special achievements as a basketball-playing senior.
"It's the best feeling in the world," Norton said. "It (the MVP trophy) means my hard work and my dedication to basketball since I was very young has paid off. I want to keep going and I want to keep winning, but this right now feels amazing."
Melanie Taylor scored 14 points,  had seven assists and six steals, while Call nabbed nine rebounds.
For Call, she's building quite a collection of trophies at home. She was on the Section V and state champion softball team and has a Section V title in cross-country.
"It's been so fun," Call said. "Honestly, it's the best thing ever because the girls I'm winning with are my best friends. They're like sisters and it's just like this family that keeps on helping each other and we're successful in the end."
All-Tournament team: Jamie Marshall (Elba), Zoe McDonald (Romulus), Laurie Call (Notre Dame), Melanie Taylor (Notre Dame).
Notre Dame will play Class D1 champions Mt. Morris on Monday in Pavilion. The consolidated Class D champion will then represent Section V in the state tournament, starting with a regional championship game against the Section VI champion.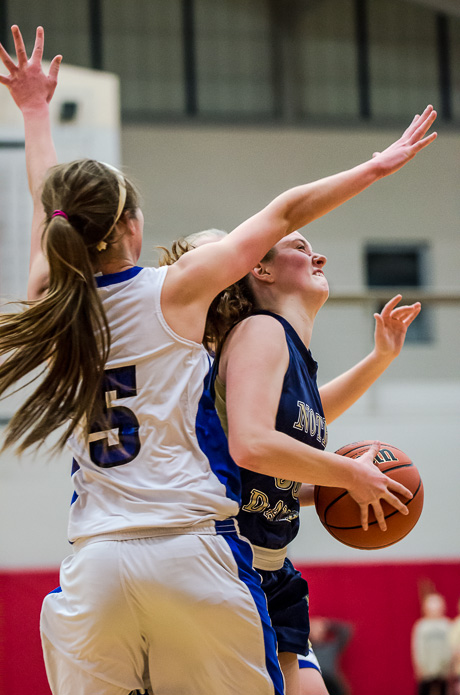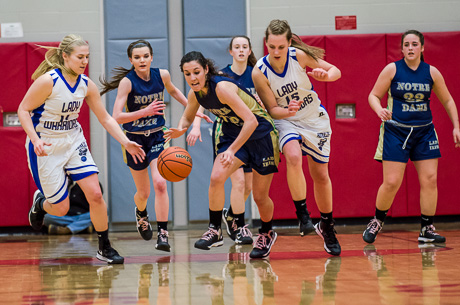 To purchase prints of these photos (parents, you want to make sure you always have copies, right?), click here.