September 16, 2012 - 1:44pm
Notre Dame student wins Batavia Downs scholarship race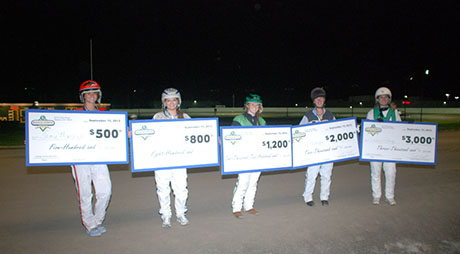 Press release:
In the third $7,500 "Dash for Cash," Lindsay Hilburger -- representing Notre Dame of Batavia High School with professional driver Dave McNeight III alongside -- led all the way to take the first-place scholarship check of $3,000.
The one-mile harness race for area high school seniors racing for college scholarship funds took place Saturday night (Sept 15.), at Batavia Downs Racetrack & Casino.
Sonia Nevinger (Alexander) took second place and a $2,000 scholarship check; Leanne King (Pembroke) was third and earned a $1,200 scholarship; Jessica Levins (Batavia High School) took the fourth-place spot and $800 in scholarship funds, while Jamie Marshall (Elba) was fifth and received a $500 check.
The final time of 2:08.2 was by far the fastest running time of any of the scholarship races.
"It was nice to see such a large turnout," said Todd Haight, general manager of Live Racing.
The track apron was packed with fans of all ages as they came out to cheer on their classmates and favorite schools.
The scholarship race is a partnership of the New York Sire Stakes, the Harness Horse Breeders of New York, the Western New York Harness Horsemen's Association, Buffalo Raceway and Batavia Downs.
Photo: Jamie Marshall, Jessica Levins, Leanne King, Sonia Nevinger, Lindsay Hilburger (courtesy of Paul White).