November 9, 2012 - 3:43pm
Oakfield resident turns himself in on accusation of sexual abuse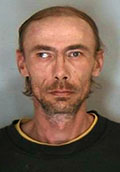 A 40-year-old man turned himself in to Batavia PD following a complaint that the man sexually abused a child under age 11.
John W. Eastridge, 40, of 7058 N. Pearl St., Oakfield, was charged with sexual abuse, 1st. Following arraignment he was released under supervision of Genesee Justice.
Eastridge allegedly subjected a child to sexual contact in September 2009 in Batavia.
Assisting Det. Charles Dudek on the investigation were Chris Erion and John Dehm of the Sheriff's Office.
November 10, 2012 - 8:45am
#5
If anyone can patently look like, what i picture a child molester to look like. Its this guy. Note to the government, if you legalize prostitution the sex crimes will almost completely stop. There is a reason its the oldest profession, women wanna sell it, men want to buy it. But yeah lets keep it illegal and make our children targets instead. Its pretty easy to see people, look up the rape/molestation stats for a nation where prostitution is legal, then look at the United Stated stats. Women have been selling it for 8000+ years of history, but yeah they are just gonna stop because you made a law. LOL