March 24, 2013 - 12:11pm
Oatka Glass attracts teachers and students from all over the world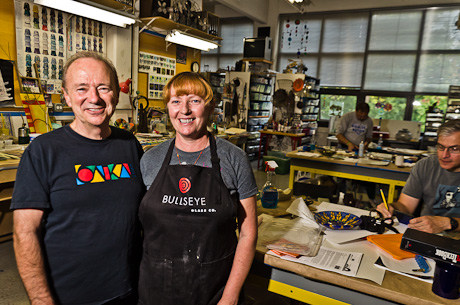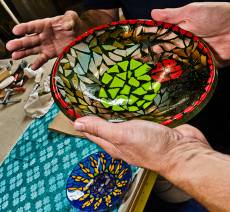 NOTE: Earlier this year, the Chamber of Commerce published its annual Genesee County Tourism magazine and for the second year in a row, The Batavian participated in the publication by producing photos and stories. Today, for our Sunday reading, we're publishing four of our stories. For more on why Genesee County is a great place to live and to visit, click here for VisitGeneseeNY.com.
It's a little studio with a big reputation.
Lance and Amanda Taylor opened Oatka Studio in 2007 and now attract students and teachers from the world over.
"We're fortunate we know many, many world renown glass artists," Lance said. "We're able to bring those people to Batavia and that is something that sets our school apart from many smaller glass studios."
The Taylors both have a long history in various art forms, as well as business and science backgrounds, that evolved into an interest in glass.
Lance started with stained glass in the 1970s, went to ceramics in the 1980s, woodworking in the 1990s and then back to glass.
Amanda was a geophysist who pursued art on the side, including metal smithing, ceramics, photography and welding.
Lance is from Le Roy and Amanda is from Calgary, Alberta, Canada.
The husband and wife team met at a glass conference in Corning in 2006.
Oatka Glass is located in the historic Harvester Center, a 150-year-old former tractor factory in Batavia that is home to a variety of small businesses, including a community theater, photography studio and two art studios.
Much of the current studio is centered around kiln glass -- melting cut or crushed glass in a kiln until it becomes a single piece and then shaping the glass with molds or cutting and sanding -- but the Taylors also offer glass blowing glasses and are expanding that part of the studio.
"People might be surprised that we have a world-class glass facility right in Batavia," Lance said. "Anybody in the area has a phenomenal opportunity to work with masters in glass and use some of the best equipment that is available."
The studio has become popular with groups, Amanda said, from business executives looking for team building exercises to Girl Scouts trying new craft projects.
"We are expanding that part of the business," Amanda said. "We want to get more of the local community involved."
Typically, classes run three or four days, but there are one-day classes, multi-week classes and artists can rent studio time to work on projects. The Taylor's also offer one-on-one instruction.
Basically, the Taylors can fashion an instruction or studio experience to fit the needs of an individual or group.
Just recently, Oatka Glass started a lecture series featuring well known glass artists that are free and open to the public.
"A lot of the instructors who have taught here love coming here," Amanda said. "What we offer is unique and a little more personal."
For example, Amanda said, for daylong classes, Amanda cooks gourmet lunches.
"We don't just send out for sub sandwiches or pizza, and we can cook a lunch to accommodate vegetarians or any dietary health issue," Amanda said.
"It's all very personalized," she said. "This is a small place so a lot of attention is paid to each student."