August 10, 2013 - 12:22am
Officer Dibble going back to being Mr. Dibble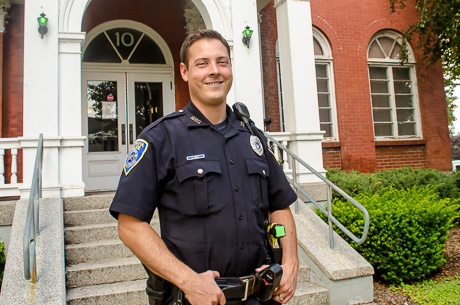 Eric Dibble enjoyed teaching science to high school students, but he was still drawn to a career in law enforcement even after getting his master's degree and earning multiple teaching credentials.
His attraction to law enforcement is not surprising. He comes from a law enforcement family -- his father is Gordon Dibble, the chief deputy in charge of road patrol for Genesee County.
When the younger Dibble took a job three years ago with the Batavia Police Department. It was the right decision for him at the time, he said, and he's glad he did it. 
Since then, though, he's become the father of two children and what was acceptable before he had a family is less so now.
As a young cop on the force, he's still working a lot of nights. The hours can be unpredictable. Then there is what Dibble describes as "the heaviness" of not knowing what comes next.
"It's a different world for me now than when I got hired," Dibble said.
He also still had those degrees and credentials to fall back on.
Those factors, more than anything else, led him to reconsider his career choice.
Friday was Dibble's last evening shift in Batavia blue. At the end of the night, he turned in his badge and put away his service pistol for the last time.
This fall, Officer Dibble becomes Mr. Dibble again. He will be teaching science at a school in Monroe County.
"I realized I just can't keep doing this forever," Dibble said. "It's a great job, but it wears kind of heavy on my mind. There's some stress factors that are unique to the job and the career. I personally am looking to ease my mind of those kind of things and get back to a normal lifestyle."
Chief Shawn Heubusch said Dibble will be missed.
"He's a fine young officer," Heubusch said. "It has been a pleasure to know Eric over the time I've been here. I wish him the best of luck in his future endeavors."
If you've never met Eric Dibble, he's an instantly likable man with an obviously warm spirit and kind heart. He's also got enough backbone to be firm when he needs to be.
In other words, he's what any professional police department should want in a young officer.
And being a police officer, Dibble said, is a great career. He just decided it would be better for him and his family if earned his living in a classroom rather than on city streets.
"There was no traumatizing or sobering moment (that changed his mind)," Dibble said. "It was just a gradual, growing general heaviness, if I can explain it that way, of being in uniform, of being on call, of not knowing what the next thing is going to be. Is it going to be nothing? Is it going to be something? Is it going to be the biggest thing that ever happened in Batavia? The biggest thing that ever happened in New York State? I guess it's just one of those things where it's the not knowing that for me was heavy.
"Everybody's different," he added. "Some people thrive off that, some people don't think about it, but for me is was quite a thing, I guess."
The fact that Dibble decided to go back to teaching doesn't mean other young people shouldn't consider a career in law enforcement he said. If it's something you think you can be passionate about, he said, you should do it, but do it while you're young. His advice, get your career established before you have a family.
"This is the type of career that is a calling almost, where if you have the desire to do it, you probably should," Dibble said. "You probably should because a lot of people do and they love it and they stay with it and it's a great career.
If you're going to become a police officer, he said, you should be attracted to the career for the right reasons.
"You've got to be somebody with a good set of morals," Dibble said. "You've got to be principled and really believe in the package of a good police officer and a good police department, which should always be helping the community.
"You're a role model," he added. "You've got to care about society and want to try and make it better. You can't just do it for the action or what you see on TV, because a lot of what police do is hugely distorted on television. Those are the wrong reasons."
Perhaps not surprisingly, those are the same qualities Dibble thinks make for a good teacher.
"I've always felt strongly about the positive influence a teacher can have on a student," Dibble said. "I think I appreciate more what bad pathways people can take from school moving forward. I feel more how impressionable kids are at that age. It makes me feel that the responsibility is even greater for people who work with kids at that age."
Even in just three years, Dibble has seen a lot of changes in the police department. The most positive change he's seen, he said, is the increased emphasis on community policing.
The concept of community policing has been around for several decades. The philosophy puts an emphasis on interaction between cops on the beat and the people of the community. The idea is to get officers from out behind the wheel of their cars and only responding to calls, to walking patrols, talking to people and developing relationships.
Dibble said community policing not only gives citizens a greater sense of security, but it helps the officer, too.
"If you just handle calls and you come back to the station, it's kind of us and the world outside who call on us for help," Dibble said. "Then it's always kind of depressing, or always an issue, but if you get out in the community it does a lot of good for officers. They get a chance to mix and have these positive interactions, which offsets any negative interactions you might have."
As Dibble returns to teaching, he goes back to the classroom with a whole new set of experiences. Not too many teachers have been in the homes of arguing parents and teens, or seen firsthand the direct result of young lives that have gone off track. What Dibble has seen while on patrol in Batavia will certainly carry over into his interactions with students, he said.
"It's going to make me think about the whole package when I have my student in front of me," Dibble said. "What's going on at home, in his personal life and how is that affecting what I'm seeing in the classroom? It definitely gives me an understanding of the big picture and how it affects what a student is going through in school."
August 10, 2013 - 1:37am
#1
Eric is a really good guy, I wish him well.
August 10, 2013 - 6:24am
#2
We wish you the best of luck as Mr. Dibble. You've had a positive impact on the community and we are certain that you will have an even greater impact on the young people you work with going forward. Which ever district you are going to made a great hire.
Awesome story Howard. Thank you.
August 10, 2013 - 2:08pm
#3
Thank you for your dedication to the community & to the BPD. Good luck in your new career! Best wishes.