June 19, 2014 - 6:58pm
Owners of the Rack Shack confident you'll go out of your way for their BBQ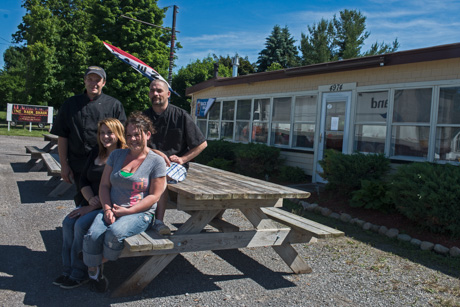 How far would you drive for really good BBQ? Yesterday, somebody reportedly drove 70 miles to try out Batavia's newest BBQ joint -- The Rack Shack, on Ellicott Street Road.
Open just a week and with little fanfare, the owners of the new restaurant are finding their location just a bit outside the city is well suited to the business they want to build.
"The location presented itself and we thought it was a good opportunity," said co-owner Mandee Hopkins.
The location was most recently Rosie's Diner. Rosie's nor the prior diner, Fedora's, really worked out for those owners. But Hopkins said she and her partners like the location because of the high volume of traffic on Route 63, the fact that the east side of Batavia -- with the ag park -- is growing, and they are confident good BBQ will make the restaurant a destination for smoked pork and beef aficionados.
The co-owners are her husband Jason, who has 25 years experience in the restaurant business, including working as head chef at the Hillside Inn and sous chef at the Valley Inn, and Jim and Melissa Penders. Jim is an award-winning BBQer who has worked in catering for 15 years.
"BBQ is what they love," Mandee said. "It's what they love to eat. It's what they love to cook, and it's a skill that needs to be mastered."
Mastered it, they have. The menu boasts that the pork ribs are so tender they melt off the bone. They'll never be accused of false advertising on that point.
The menu is filled with Southern flavor, from cole slaw to collard greens to cajun catfish along with WNY favorites such as salt potatoes, Pittsburgh salad, and their own version of the garbage plate, called the Shack Attack.
"We want to offer a warm, comfortable atmosphere where people can enjoy their food," Mandee said. "We believe in high standards and treating people like family."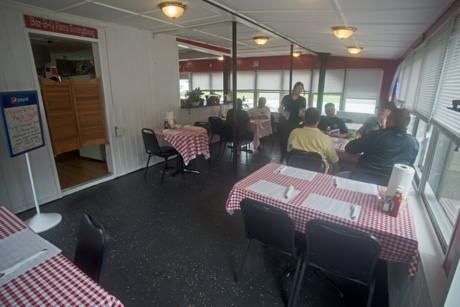 June 19, 2014 - 7:22pm
#1
Just a clarification on "your" article Howard. You may want to check your facts ALWAYS before writing your stories. My mother, Rose Mary Christian was in business for 23 years when Rosie's Diner was previously the "Bee-Hive Too Restaurant". When she closed down the Bee-Hive and reopened "Rosie's Diner", in April of 2012, she was forced to close due to having a heart attack in May of 2013. Just saying, check your facts next time.
To the new Owners of the Rack Shack~Congrats to you ALL! Good luck and many wishes for great sucess with your new business. My mom was blessed for years.