January 25, 2014 - 10:57am
Pavilion man accused of selling controlled substance to undercover agent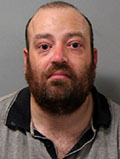 Keith Reamer
A 38-year-old Pavilion man has been arrested and accused of selling Clonazepam to an agent of the Genesee County Drug Enforcement Task Force.
Keith G. Reamer Jr., of Hartwell Road, is charged with criminal sale of a controlled substance, 5th, and criminal possession of a controlled substance, 5th.
Clonazepam is a sedative sometimes used to treat epilepsy, panic attacks and other ailments. Recreational users have described a slight euphoric feeling from the drug. An overdose can cause respiratory failure.
Reamer was arraigned in Town of Pavilion Court and released under supervision of Genesee Justice.
The task force was assisted by uniformed deputies in the arrest of Reamer.
January 25, 2014 - 12:48pm
#3
Symptoms of alcohol poisoning:
Confusion
Loss of coordination
Vomiting
Seizures
Irregular or slow breathing (less than eight breaths a minute)
Blue-tinged or pale skin
Low body temperature (hypothermia)
Stupor – when someone's conscious but unresponsive
Unconsciousness – passing out
Having used alcohol in excess (not proud of that) I can attest to:
confusion, hallucinations, unusual thoughts or behavior;
unusual risk-taking behavior, no fear of danger;
So again, not much difference. Excess is bad
I'm not condoning recreational drug use by any means, I'm just saying that too much time and resources are spent on stuff like this investigation and arrest.