January 25, 2014 - 10:57am
Pavilion man accused of selling controlled substance to undercover agent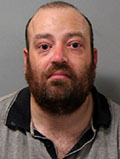 Keith Reamer
A 38-year-old Pavilion man has been arrested and accused of selling Clonazepam to an agent of the Genesee County Drug Enforcement Task Force.
Keith G. Reamer Jr., of Hartwell Road, is charged with criminal sale of a controlled substance, 5th, and criminal possession of a controlled substance, 5th.
Clonazepam is a sedative sometimes used to treat epilepsy, panic attacks and other ailments. Recreational users have described a slight euphoric feeling from the drug. An overdose can cause respiratory failure.
Reamer was arraigned in Town of Pavilion Court and released under supervision of Genesee Justice.
The task force was assisted by uniformed deputies in the arrest of Reamer.
January 26, 2014 - 1:31am
#4
"Clonazepam has wreaked such havoc on people partly because it is so highly addictive; anyone who takes it for more than a few weeks may well develop a dependence on it. As a result, you can be prescribed Klonopin as a short-term treatment for, say, insomnia, and wind up so hooked on it that you'll begin frantically "doctor shopping" for new prescriptions if the first physician who gave it for you refuses to renew the prescription. As with all benzos, use of Klonopin for more than a month can lead to a dangerous condition known as "benzodiazepine withdrawal syndrome," featuring elevation of a user's heart rate and blood pressure along with insomnia, nightmares, hallucinations, anxiety, panic, weight loss, muscular spasms or cramps, and seizures."
http://www.cchrint.org/2011/06/02/americas-most-dangerous-pill-klonopin/
Kyle is correct, it is usually administered in a hospital setting for a limited time. It is used also for people suffering from severe alcohol problems [WHILE THEY ARE IN REHAB]
It is NOT a harmless high, not like Alcohol or Marijuana and IS extremely addictive. The comparison to Bath Salts is the real possibility of dangerous personality changes that require interventions.
Pharmaceuticals are not like smoking a joint or drinking a beer. Elevations of heart rate and blood pressures can and do kill, we are not talking slight increases when Klonopin withdrawals are concerned.
Why am I so adamant? In 2010 my cousin had trouble sleeping, a friend of hers gave her 1 Clonazepam tablet, an hour later, she had a seizure as a result and is dead, no over dose, no addiction 1 pill.