September 18, 2012 - 4:05pm
Pavilion man arrested on multiple charges sent to prison for at least two years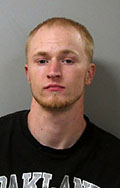 A Pavilion man who was arrested multiple times in early spring will serve two to six years in state prison on a third-degree-burglary conviction.
Joshua Lanair Webster, 25, of 7882 York Road, Pavilion, admitted to the burglary charge June 28 and was sentenced in Genesee County Court on Monday.
Webster was identified as the suspect in one crime after a picture of him walking through Batavia Downs was posted on The Batavian.
In April and May, in various unrelated incidents, Webster was charged with aggravated unlicensed operation, 2nd, leaving the scene of a property damage accident and failure to yield right-of-way, burglary, 3rd, grand larceny and criminal mischief, 4th, and criminal possession of a controlled substance.