January 22, 2013 - 11:19am
Pembroke Scout becomes an Eagle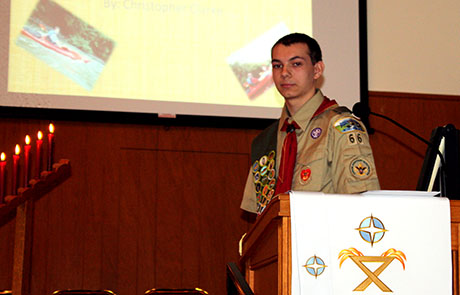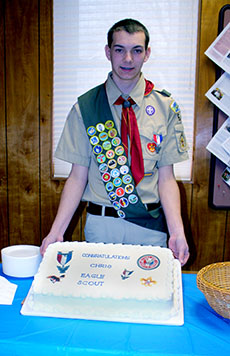 Write-up submitted by Laurie Clarke:
On Saturday, at the Indian Falls United Methodist Church, Christopher Clarke was honored at an Eagle Court of Honor Ceremony where he was awarded the highest rank in Boy Scouting -- the rank of Eagle Scout.
Christopher was presented with several citations from President Barack Obama, the Secretary of the Interior Ken Salazar, Sen. Charles Schumer and Rep. Kathy Hochul just to name a few. Assemblyman Stephen Hawley attended the ceremony and presented Christopher with a New York State Assembly Citation. Chris will also be receiving an American flag that was flown at the Capitol in honor of his Eagle Scout accomplishment.
In 2006 when Christopher was 8 years old he joined Troop 6066 in Indian Falls as a Cub Scout and began his journey toward becoming an Eagle Scout, a journey that would take him in many different directions. Along the way, Chris had the opportunity to visit new places, meet new people and learn many new things.
In 2010, Troop 6066 traveled to AP Hill, Va., to attend the National Boy Scout Jamboree, making many stops along the way at different historical sites.
The troop also went on numerous camping and kayaking trips including the Adirondack Mountains.
Throughout scouting Christopher was active in the community participating in Adopt-A-Highway program, planting trees for the Iroquois National Wildlife Refuge, ringing the bells for the Salvation Army, flag retirement ceremonies and many other community activities.
Christopher completed his Eagle Scout Project at the Iroquois National Wildlife Refuge in Alabama. With the help of fellow Scouts, family and friends, Chris constructed a handicap accessible duck blind. The blind was built in pieces and then transported to the duck pond on the refuge where it was assembled at the end of a long dock.
Chris spent many hours researching the correct measurements and regulations for a handicapped building, locating funding for and finally putting a crew together to build and transport the blind.
Chris says "Scouts allowed me to learn many things that I would not have learned  if I had not had the opportunity to be in scouting. Boy Scouting gave me the chance to grow as a person, to be part of the community and meet many wonderful people along the way."
January 22, 2013 - 4:21pm
#1
Congratulations to Christopher. Eagle Scout is a labor intensive process that is too often under appreciated. You join a long list of accomplished young men and your future is bright. The link lists famous Eagle Scouts of the past:
http://www.usscouts.org/eagle/bsfamous.asp
January 23, 2013 - 12:53pm
#2
Congratulations, Chris. Your achievement is remarkable and so is the strength of character it took to complete it. We need more people like you. Best wishes for your future endeavors.