October 16, 2012 - 4:31pm
Pembroke woman, 53, admits to possessing child porn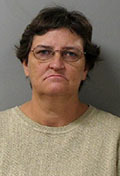 A Pembroke woman who allegedly supplied child pornography to a man later convicted of molesting toddlers entered a guilty plea in Genesee County Court today to one count of possession of sexual performance of a child.
As a term of the plea deal, Beverly Hensel, 53, of 8921 Alleghany Road, Pembroke, could receive up to 10 years probation and an intermittent jail term.
She also will not face federal prosecution.
Hansel admitted to possessing child pornography between January 2008 and December 2009.
According to court documents, Hansel met James L. Little Jr., 41, formerly of Batavia, at a bar in Corfu. During the meeting, Little said Hansel offered to acquire child pornography for him.
"Bev knew I was having certain feelings," Little wrote in his deposition as part of the court documents filed with Hansel's arrest. "Bev gave me my first child porn DVD around January of 2008."
Little is currently serving a 15-year sentence for molesting a toddler in Batavia last year and has been charged with molesting a second child.
Hansel will be sentenced Jan. 9.
October 17, 2012 - 7:50pm
#1
Little should get more than just prison time. They shoulld nueter him like the dog he is. This woman is just as big as a pervert as Little and should be in prison as well. Guess we have to beware of this Grandma, another wolf in disguise.