June 27, 2014 - 11:22pm
Pembroke youngsters selling 'Kool-Aid for Cancer' this summer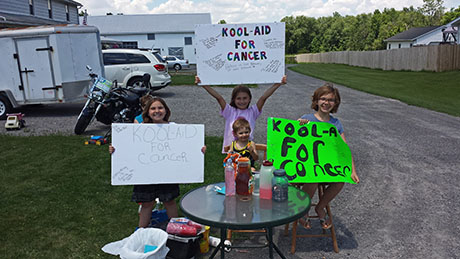 A group of young go-getters in Pembroke are doing what a lot of children do in the summer -- setting up a lemonade stand, but these kids aren't aiming to build a fortune. They're trying to raise funds to support cancer research.
Making the pitch for your donations by selling Kool-Aid, iced tea, lemonade and bottled water are Abigail Wasielewski, Alyssa Klecker (bother of Austin Heinemean who has been in the news before because of his fight to beat cancer), Zachary Wasielewski (also Austin's brother) and Alexandria Wasielewski.
The youths will be set up periodically throughout the summer at 2337 Main Road, Pembroke.
All proceeds will be donated to Roswell Park Cancer Institute.
Photo and information submitted by Steven Wasielewski.
June 28, 2014 - 12:15pm
#1
When I see stories like this, it just brightens my day!....these kids are on the right track in life and their parents should be very proud....