August 12, 2014 - 3:27pm
Penny Carnival planned for Austin Park NEXT Friday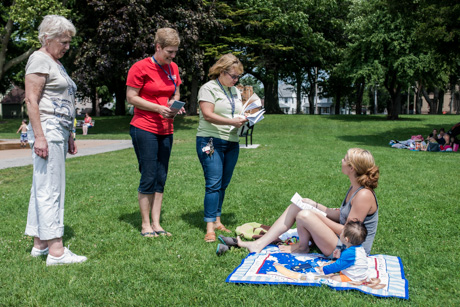 Mary Repast, Kim Floskowski and Lisa Wittmeyer were in Austin Park yesterday handing out fliers to promote a Penny Carnival hosted by Community Action of Orleans and Genesee Counties.
The Carnival will be in the park next Friday, Aug. 22, from 10 a.m. to 2 p.m.
Children are encouraged to bring pennies.
The event is co-sponsored by the Salvation Army, Care-A-Van and Jr. Angels in Action.
There will be games and prizes.
August 12, 2014 - 11:16pm
#1
Is there an age limit on this or is it for anyone? Some of the individuals I work with would love to do this I think. Is there a number we can call to ask questions?
August 13, 2014 - 8:38am
#2
The carnival games are geared toward children ranging from toddlers to pre-teens. About 20 or more area agencies will be present with games and information. Everything from a "sand box treasure hunt" for toddlers to other games and activities geared toward older youth.
Of course, everyone is welcome to come out that day. There is a lot of useful and interesting information for all ages. We'll have music, a fire truck from Batavia FD, a 30' inflatable slide, an ambulance from Mercy EMS, hot dogs courtesy of Care-A-Van Ministries and animals and information from Volunteers 4 Animals.
Please call Lisa or Kim with any questions at Community Action of Orleans & Genesee at 343-7798.
Anyone interested in volunteering that day please call us!
August 13, 2014 - 9:01am
#3
Deputy Mower from Genesee County Sheriffs Department will be present that day as well doing child seat safety checks!