May 3, 2013 - 4:21pm
Photo: 'Bushville Fire Chief' car at dealership on Route 5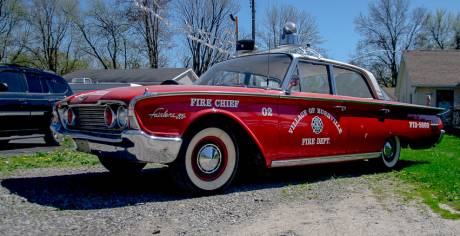 There never was a Bushville Fire Department, so there was certainly never a Bushville Fire Chief, but this Ford Fairlane 500 sure looks like the real deal.
Jay Nichols, owner of two used car dealerships in Batavia -- on Route 5 near Wortendyke and next to Jerry Arena's on Lewiston Road -- acquired this car about three weeks ago from a friend.
It's for sale, but Nichols doesn't really want to sell it, so, he said, the price would have to be right.
There's an old Motorola radio on the dash and the dome light works.
"It's a period car, a parade car, a show car," Nichols said. "It's a cruise-the-town-at-night car."