March 10, 2014 - 6:05pm
Photo: Darien fire rekindle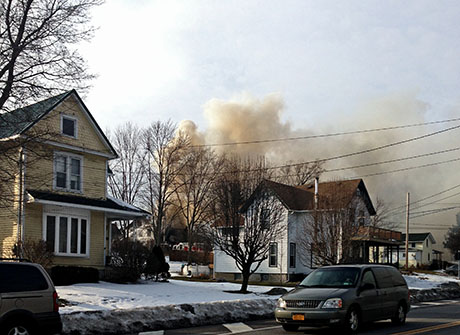 Brittany Hodge sent his picture of the rekindle of this morning's fire at 1363 Broadway, Darien.
There have been a couple of rekindles today, but this one required both Darien fire and Corfu fire to be dispatched, along with a fill-in by Pembroke at Corfu's hall.
UPDATE 6:10 p.m.: Alexander fire has been dispatched to the rekindle.
Previously:
March 11, 2014 - 12:14am
#1
My daughter & her boyfriend lived in this apartment building along with some good friends of theirs. I just want to thank all the firefighters who helped to battle the blaze. I will be forever grateful to you all & may God Bless each & every one of you. Thank you from the bottom of my heart.