September 7, 2011 - 3:57pm
Photo: Local Kiwanians getting auction items ready to benefit Child Advocacy Center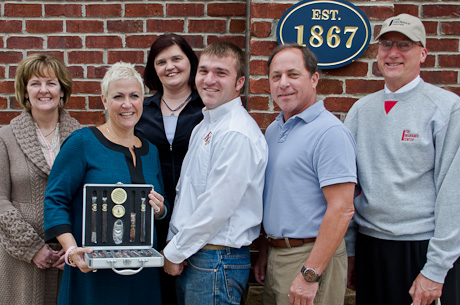 The auction and gala to benefit the Child Advocacy Center is just around the corner -- Sept. 17 -- and auction items are rolling in. Above, Anita Strollo shows off a group of cigars in a traveling humidor that will be among the items offered up by auctioneer Seth Kent (white shirt, center), of William Kent, Inc., of Stafford.  From left are: Grace Flannery, CAC; Strollo; Tiffany Szymanek, Genesee Justice; Kent; Assemblyman Steve Hawley, who will emcee the evening's festivities; and, District Attorney Lawrence Friedman, president of Batavia Kiwanis.
The Kiwanis Club is sponsoring a "Bidding on a Brighter Future" Gala and Auction at 6 p.m., Sept. 17 at Batavia Downs. Donations of items for the auction are still being accepted. Tickets for the gala are $40 per person or $75 per couple. Checks can be mailed to: Justice for Children GLOW Foundation, Inc., 108 Bank St., Batavia, NY 14020.
Disclosure: As of Thursday, Howard Owens is a member of the Batavia Kiwanis Club.
September 7, 2011 - 4:14pm
#1
Wishing you all the success. Both are great organizations ... and the "cause" is so incredibly worthwhile!
September 7, 2011 - 6:38pm
#2
and as of Thursday...Kiwanis has a brighter future...glad to Howard as a fellow Kiwanian!
Lisa, thanks for the well wishes...this is going to be a fun event!
September 7, 2011 - 10:32pm
#3
could Howard now consider joining next Monday the Batavia Photography Club also ? We would like a brighter future also !