June 12, 2014 - 11:39am
Photos: 2014 Batavia Muckdogs tuning up for new season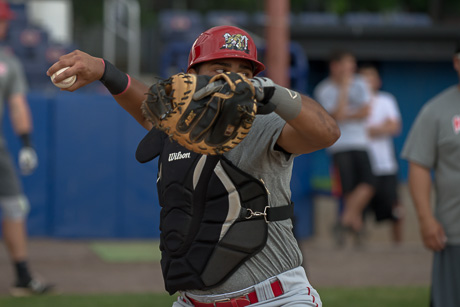 New Muckdogs -- and some returning -- have been arriving in Batavia this week and starting workouts with their new teammates.
The first home game of the season is at 7 p.m., Saturday, at Dwyer.
Manager Angel Espada, in his second season in Batavia, said the staff will have some good young arms and pitching should be a team strength during the 2014 campaign.
"At this level the most important thing is you help them develop," Espada said. "Pitching and defense (are) going to dictate, at any level, but especially at this level.
"I think our pitching should be solid," he added.
Leading the staff, at least out of the gate, will be Gabriel Castellanos, Jorgan Cavanerio, Jose Adames.
Position players to watch include Aaron Blanton, Kevin Grove and Ryan Aper.
The Muckdogs are an affiliate of the Miami Marlins.
Yesterday's workout was cut short by a cloudburst.
For the full season schedule, click here.