January 23, 2012 - 11:41pm
Photos: Alpina executives tour plant construction site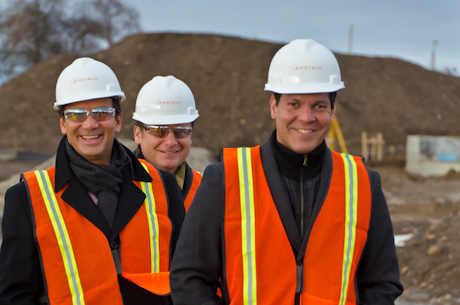 Top executives from Alpina Products were in Batavia on Monday touring the site of their future Greek yogurt plant in the Genesee Agri-Business Park, and they heard from Jim Billington, project manager, that construction is right on schedule.
A mild winter has certainly helped, Billington said.
"We've been pouring concrete every day, and according to some of the locals, that's quite unusual," Billington said. "We've been trying to take advantage of that."
CEO Julian Jaramillo (top photo, left) was all smiles during the tour and nodded enthusiastically when Managing Director Carlos Ramirez (top photo, right) said they consider it a good sign that Project Wave is under construction (The Batavian has previously reported Project Wave appears to be the work of PepsiCo).
"It says we made a good decision in coming here," Ramirez said.
He added that with the milk supply, the transportation, the labor pool and now the chance to be in a location with a complimentary business will only benefit Alpina and could lead other yogurt makers to come to the same conclusion.
"I think developing a yogurt cluster is a really good idea – the Silicon Valley of yogurt," Ramirez said.
With Jaramillo and Ramierz was Alpina' Colombia General Manager Ivan Lopez, who was seeing the location for the first time.
"It's going to be great," Lopez said. "We have a huge operation in Colombia and when I see this, we can see the future in United States. I think we can do good things here, just like in Colombia."
The 40,000-square-foot plant should open in early spring and initially employ 50 people, with the first shipment of product going out in June.
Ramirez said Alpina remains excited about the opportunity to sell Greek yogurt in the United States.
"It's one of the few categories where America is an emerging marketing," Ramirez said. "It's grown like crazy over the past three or four years and we think there is still room to grow."
For previous Alpina coverage, click here.