December 2, 2012 - 9:33pm
Photos: Old farmhouse used for firefighter training set ablaze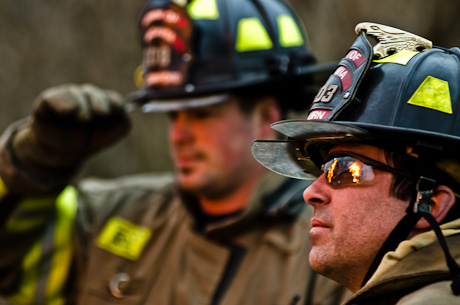 The first part of the old farmhouse at 7694 Batavia Stafford Townline Road was built before the Civil War. Today, all of those years became ashes in a controlled burn conducted by the Town of Batavia Fire Department that capped a morning training session at the structure.
Firefighters showed up at the former Dorman family farmhouse early this morning and conducted several interior firefighting exercises.
Town of Batavia Fire First Assistant Chief Nathan Fix said some of the fires really got going, and all were knocked down by interior firefighters in training.
"We had fireman who got to see real fire in real conditions for the first time," Fix said. "We had at least 10 firefighters here who never experienced real fire, real heat, before."
Volunteers from Batavia as well as Bethany, Byron, Bergen, Corfu, South Byron, Oakfield and Elba all participated in the morning exercises.
Bergen's ladder truck was then set up in position to help contain the anticipated inferno, as well as a handful of charged fire hoses, then using road flares, Fix set the structure on fire.
Once the house was ablaze, the firefighters were give a chance to do something that never happens at a real fire scene -- pose for a group photo in front of the burning building.
It took more than an hour for the structure to be completely consumed.
Mark Hare, who was about 5 when his family moved into the house in 2000, made a video of the destruction of his childhood home while his mother, Dawn Hare, looked on. Andy Hare, a retired city firefighter, is in Georgia and couldn't be here for the fire. The Hares' daughter is also out of town.
The Hares built a new home on the hill behind the old farmhouse two years ago, and it's now for sale.
Dawn said the whole family was sad to see the old house go, but it had to be done. The structure had numerous deficiencies and had deteriorated beyond repair. Even when the Hares lived in it, there was no heat on the second floor, the kitchen sink backed up every winter and the electric was out of date.
Fix said it took him six months of work to get all of the proper permissions to burn down the structure, including insurance letters, letters from every utility company that ever serviced the house, the Hares themselves and the DEC.
Since all of the proper paperwork was only recently completed, and it's the onset of winter, the fire department decided to do all of its training and the final bonfire in a single day.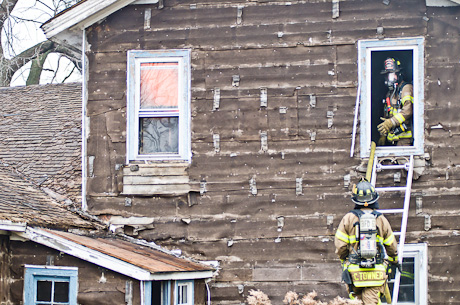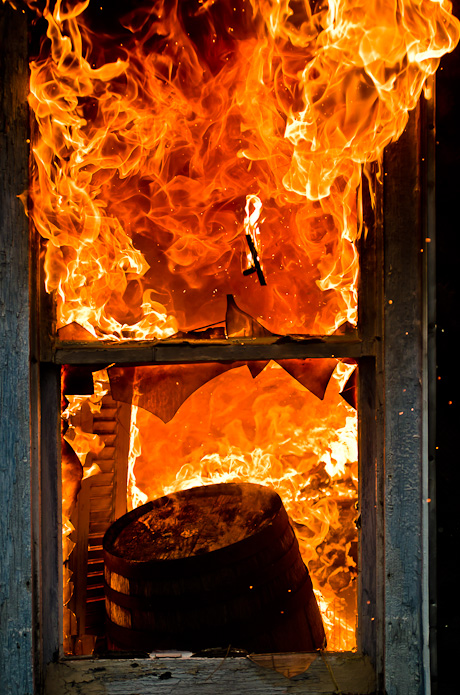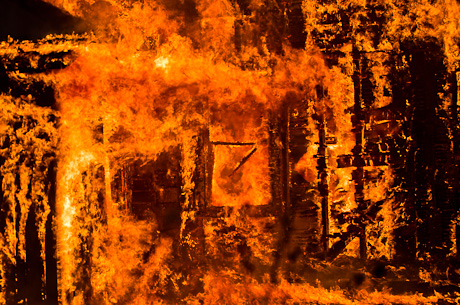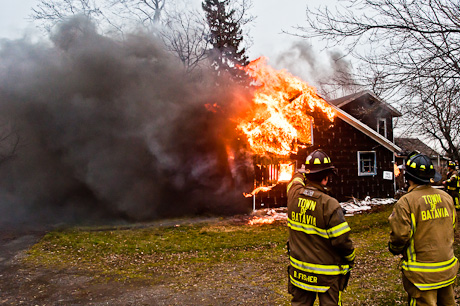 If you're unable to view the slide show below, click here. 
There are 10 black and white photos in the slide show. They were shot with a Nikon F4 and Illford XP2 film.
To purchase prints of these photos, click here.
December 3, 2012 - 9:44am
#1
Howard awesome pics (as always)