July 30, 2014 - 12:18am
Photos: Patriot Guard delivers portrait of Sgt. Schmigel to her mother
posted by
Howard B. Owens
in
batavia
.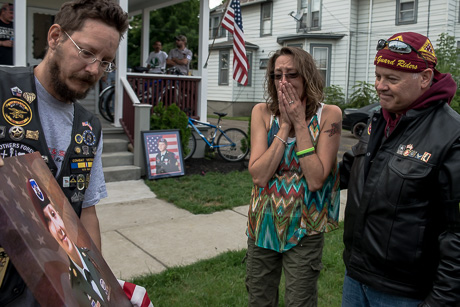 The Patriot Guard delivered today one more gift, one more honor for Karie Schmigel, the mother of Sgt. Shaina Schmigel, the Iraq War veteran and paratrooper who died while training at Fort Bragg, N.C., in early June.
Members of the group of motorcycle riders -- who often serve as honor guard and escort for soldiers who die in the line of duty, and did so for Shaina's funeral -- drove to Karie's house on South Swan this evening to deliver a special portrait of Sgt. Schmigel.
Karie was immediately overcome as soon as she saw it.
The portrait was presented by Robert Polanski, left, and Scott Hayes.
The Schmigel family is selling bracelets, stickers and T-shirts to honor Shaina. The proceeds are being donated to the Airborne & Special Operations Museum at Fort Bragg. So far, $1,500 has been raised.